Executive Education
Core Management
29 to 20 September and 17 to 18 November 2020 (four day programme)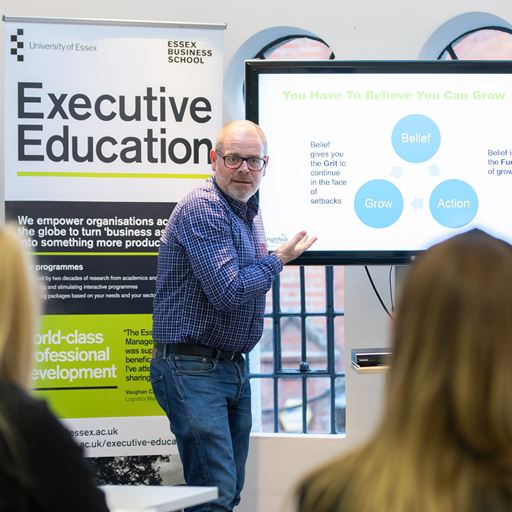 Overview
Venue:Essex Business School, Colchester Campus

Essex Business School's flagship management short course
This intensive four day management and leadership programme helps you maximise business results through accelerating the skills and capabilities of your managers.
The Essex Core Management Programme is for senior managers and owner-managers of growing businesses, particularly SMEs, seeking professional development and general management training to improve their skills and contribute more to their business.
You gain access to world-renowned academic and practical management expertise that delivers fast track skills development. The programme provides the opportunity to interact with senior leaders from growing businesses and learn from best practice.
Learning outcomes
Gain a strong understanding of effective management concepts.
Learn how to improve business performance through effective people management.
Discover how to set objectives and KPIs to deliver commercial results.
Understand what success looks like and learn how to create new success standards.
Develop a business case for a significant commercial improvement in your organisation.
Our expert staff
Mark Kelly
Business trainer and coach Mark Kelly has decades of experience in helping SMEs excel.
As well as holding senior management roles at a range of fast-growing businesses, he has designed training programmes for the likes of Coutts, Balfour Beatty and NatWest.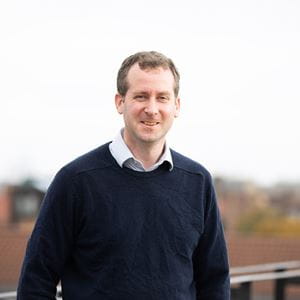 James joined the University of Essex in 2019 as a Lecturer in Management. He was previously an associate Lecturer at the University of York and a regular Officer in the Armed Forces where he held a series of appointments in the Educational and Training Services branch. His mainstream teaching work covered modules on management and leadership, military analysis of strategy, international relations and cognitive bias.
I found the course engaging and interesting. I'm looking forward to implementing some of the techniques I've learnt, which I know will have a great benefit to my organisation.
Structure
Module Outline
We understand that deciding where and what to study is a very important decision for you. We'll make all reasonable efforts to provide you with the courses, services and facilities as described on our website. However, if we need to make material changes, for example due to significant disruption, or in response to COVID-19, we'll let our applicants and students know as soon as possible.
This is a four-day course:
29 to 30 September and 17 to 18 November 2020
Leadership, Coaching and Team Development
Leadership and management framework - understand the key principles of leadership, how to set objectives and manage people.
Effective team building - understand how effective teams work, how to lead them. improve their performance and create effective teams using Belbin's analysis.
Effective performance appraisal - understand how to manage performance and challenging staff, using techniques such as transactional analysis.
Coaching and succession planning – learn how to use people development and coaching techniques to realise staff potential, manage exceptional people and create succession.
Scrum, experiments and high performance - understand and apply the scrum framework to deliver highly effective team results.
Recruitment - learn how to effectively recruit and induct staff.
Finance and Commercial Skills for Managers
Finance part one – gain an introduction to finance, including the profit and loss account, the balance sheet and financial performance.
Finance part two - understand concepts such as return on investment, margins and velocity return on capital, gross margin, mark up, the margin pyramid, matching demand and supply cycles, business mathematics.
Cash flow and business cases - understand zero-cost budgeting and how to build business cases for new projects and proposals.
Project management and project finance – understand the core principles of project management
Customer Services and Operational Management
Value chain analysis – understand how to create and enhance value.
The Customer Service Challenge – understand the latest frameworks on customer service and the skills required to deliver these standards.
Winning through operational excellence - understand concepts such as Lean Thinking, waste, the 5S Model, process mapping, checklists and Kanban Visual Control Charts.
Problem solving techniques – learn how to apply problem solving techniques and avoid biastraps.
Transactional analysis and communication skills – learn how to develop and apply effective communication techniques.
Marketing Strategy and Tactics
Your value proposition – understand how to define a value proposition, examine how your business unit is perceived by customers, identify the needs of the Decision Making Unit.
Marketing campaigns - understand how to apply the Six Ps and the promotional mix.
Marketing metrics - understand how to define the key marketing metrics to measure campaign delivery and return on investment.
Marketing tactics - explore concepts such as sales qualified leads, the basics to compelling marketing copy, lead generation and growth hacking.
Effective New Business and Account Management
The power of influence - understand the key drivers and techniques to influence and persuade customers and prospects to take effective decisions and actions.
New business sales techniques
Negotiation skills – learn how to create a negotiation framework to close deals more effectively.
Account development plans – understand the difference between account management and account development, how to identify opportunities to grow accounts, produce an account development plan and manage the account pipeline.
Account development sales techniques – understand how to use different sales techniques to achieve optimum results and how to set and drive sales performance.
Business Unit and Company Plans
Strategy and business planning – understand tools such as Three Year Orbit and Single Page Plan to set objectives.
Strategic implementation - understand the key causes of strategic failure and how to avoid ineffectual strategy implementation.
Objective setting – learn how to set annual goals, quarterly SMART objectives and adhere to the mission, vision and Objective Key Results structures and apply lessons from the Balanced Scorecard.
KPIs and The Golden Thread – understand the key activities and measures that drive the business and keep it on target.
The business plan project.
Business Unit/Departmental Plan and Company Plan Presentations
Each manager will present their business unit's plan.
Fees and funding
Standard programme fee: £1,550 Alumni programme fee: £1,250 Accommodation is not included in the above prices.