Executive Education
Accelerating Innovation Programme
Dates: More dates coming soon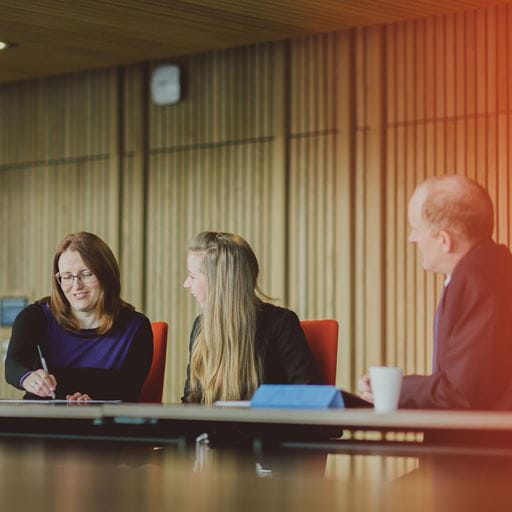 Overview
Accelerating Innovation Programme
Struggling to keep pace with technological change?
Blockchain, cryptocurrency, AI and 3D printing are dramatically changing industry boundaries. Services are being digitalised, democratised and demonetised. The rapid reduction in costs of new technologies (3D printing, sensors, drones) has reduced barriers to entry for new firms with compelling business models to compete head-on with incumbent firms. Value chains can be rented on demand.
While companies like Shell can make big bets on multiple scenarios and back it with significant investment, SMEs need to approach it differently. They need to develop an "innovation-on" strategy that some of these new technologies, platforms, and markets while simultaneously protecting their core business.
Join this programme to draw on the insights and research findings of leading experts and the real-world experience of sought-after thought leaders, who have been helping organisations cope with this change.
This programme is particularly relevant to those in technology, digital, innovation and research and development roles, such as:
Directors/Heads of Innovation and Innovation Managers
Directors/Heads of Technology
Directors/Heads of Digital Directors
Senior Executives
Managers
Entrepreneurs
Learning outcomes
Benefits to you:
Discover six important traits and practices of incumbent companies who have successfully managed to innovate and protect their core business.
Learn the leadership traits and incentives required to focus on both the current market and future market.
Develop techniques of low-cost experimentation to explore new markets.
Understand the nature of disruption, why it blindsides companies who focus only on continuous innovation, and how you can develop a defence mechanism against it
Benefits to your organisation:
Understand the era of an ambidextrous organisation, which can protect their core business while innovating for the future. It is not based on R&D.
Understand the need for developing an innovation engine that goes beyond continuous improvement.
Build an incentive mechanism to drive the change to successful innovation.
Learn the power of collaboration and communities to build extended value chains.
Learn practical lessons from some of the fastest growing companies and understand what benefits it could bring to your future organisation's structure.
How You Learn:
Bring concepts to life with case studies.
Explore examples from different sectors to see how successful new work business works in practice.
Challenge your perspectives and discover opportunities in your own organisation.
Draw inspiration from real-world pioneers
Engage in sessions that will push you to think differently and put ideas into practice. Experiment in a safe space, get outside your comfort zone with the support of tutors and produce materials to influence your stakeholders.
Our expert staff
Professor Tazeeb Rajwani
Tazeeb Rajwani is a Professor of International Business and Strategy.
He has held senior management positions at KPMG and was previously Executive MBA Director at Cranfield School of Management. Professor Rajwani has held visiting faculty positions across the globe, including the likes of University of Warwick, London Business School and HULT International Business School.
Viren Lall
Viren Lall is Managing Director of ChangeSchool, an international executive education company specialising in strategy, innovation and change.
A business innovation and transformation specialist, he has twenty four years of experience in multinationals such as BT, Adobe Systems, Dell Corporation and UNIDO. His business transformation hothouses were voted the best in BT's corporate memory. In executive education, he has worked with leadership teams in UBS Vodafone and Lloyd's of London to name a few, and regularly teaches at the Indian School of Business.
Neil Marshall
Neil Marshall is Development Director of ChangeSchool.
An executive education specialist and entrepreneur, he has previously held positions in management consulting, international trade and education, working in the UK, East Africa, South America, the Gulf and India. Neil is a trustee on the UK and global board of an international charity.
Structure
Module Outline
We understand that deciding where and what to study is a very important decision for you. We'll make all reasonable efforts to provide you with the courses, services and facilities as described on our website. However, if we need to make material changes, for example due to significant disruption, or in response to COVID-19, we'll let our applicants and students know as soon as possible.
Strategy and purpose
Today's businesses face political instability, economic downturns, changing consumer demand and technological innovation, making predictions and planning for the future very uncertain. This session discusses the volatility, uncertainty, complexity and ambiguity (VUCA) environment and the need for a different approach to innovating for the future.
Understand the 6Ds of disruption driving changes in the industry
Understand the new 'VUCA' environment and the era of exponential change, the iterative nature of strategy formulation and why traditional business planning techniques are more likely to fail
Understand where the returns on innovation come from
Learn how to approach one year, three year and five year horizons differently and how to define your innovation strategy accordingly
Ideas, creativity and culture
Doing something different is hard. It takes energy and courage. There is always the risk it will not pay off, a fact few companies acknowledge. Your staff need to feel reassured to 'move fast and break things', as Mark Zuckerberg would say. Thinking about the future inevitably involves planning for more than one scenario, with the full knowledge/ and awareness that some element of that planning will be wrong. The key is to make that planning and testing as quick and as cost effective as possible.
Understand the signals you need to be aware of in the market
Learn from other industries, organisations and competitors
Judge which elements to keep, develop and change in your company to create the right innovation process
Learn how to create a culture that encourages innovation, not stifles it
Understand the capabilities needed in your company to make innovation succeed
Implementation, management and process
In this session, we explore how to develop strategic projects, define experiments and set up the processes and incentives to promote innovation. Options can include whether to innovate internally, research, build or buy capability.
Understand the innovation process as a series of staged gates and learn how to build a process to manage and measure innovation
Understand how to sponsor disruptive ideas with small bets and develop proof of concept.
Understand the need to run low cost experiments and learn both from positive and negative outcomes
Appreciate how lean start up and design thinking methodologies can be integrated into the innovation process into your company
Leadership and clarity
Strategic organisational leadership looks at elements of building a robust organisational strategy, the barriers leaders face in execution and techniques to overcome them. Asking teams to be "more innovative" does not necessarily produce the desired results. In this session we explore how communication can be made more effective as organisations develop and implement a culture of innovation.
What managerial skills can I develop?
What are the elements of a bad strategy that I should avoid?
Learn why communication ceases to be effective when cascaded down the organisations and how to avoid that scenario
How can I inspire my organisation in both good and challenging times?
Fees and funding
Standard programme fee: £995 Alumni programme fee: £795 Contact us for further dates and information