People
Lewis Smith
Graduate Teaching Assistant
Department of History
Postgraduate Research Student
Department of History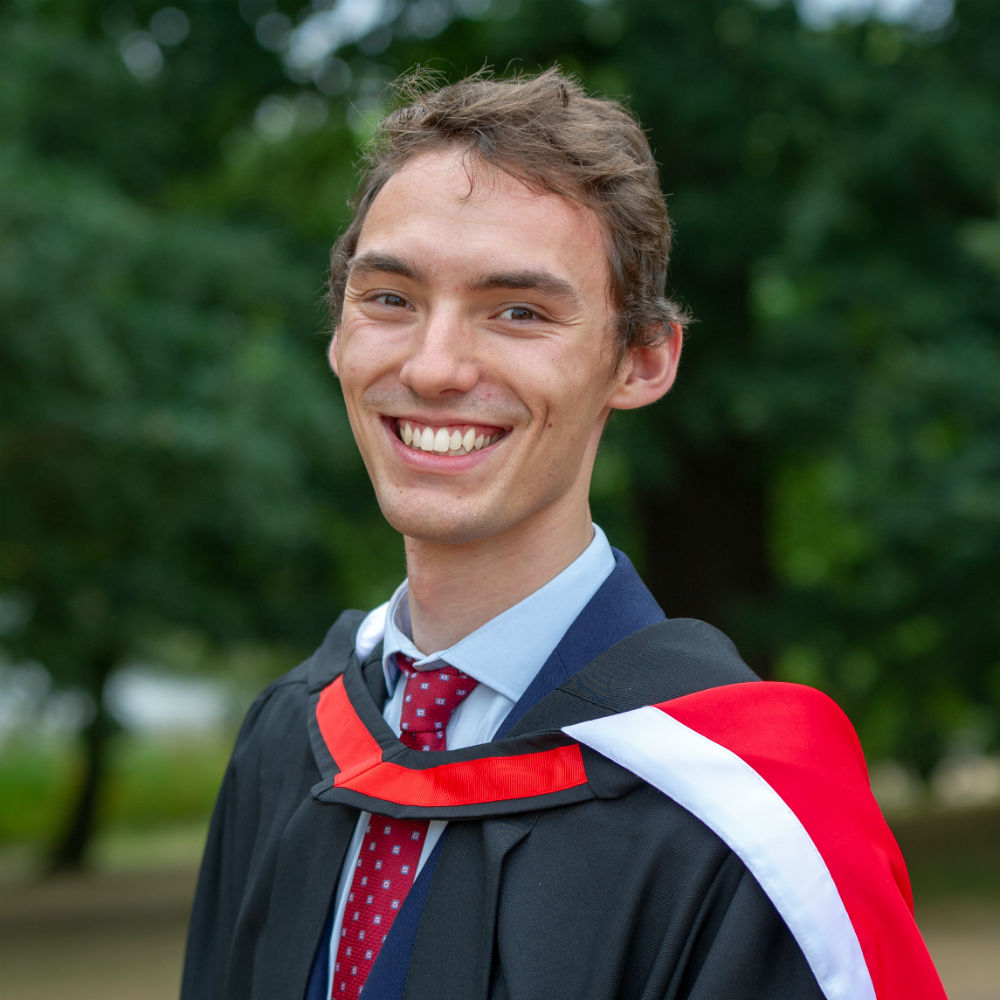 Profile
History of Industry, Transport, Railway, Aviation and Gender

Video Games and Historical Consumption
Biography
I am originally from Ipswich where I went to Copleston High School for my GCSE's and A-Levels. I came to Essex in 2013 as an undergraduate, where I studied Modern History and Politics. It was only upon writing my undergraduate dissertation that I realised that I wanted to stay in academia: I really loved crafting and owning a unique argument and becoming the expert. Since 2016 I have been a PhD student in the department and since 2018 I have been a Graduate Teaching Assistant for Making of the Modern World. I have two fields: I have always been really interested in Industry, most notably the aviation and railway industries after the Second World War. In my thesis, I argue that the British Overseas Airways Corporation (BOAC) were essentially a propaganda organisation which aimed to subvert the British experience of social, economic, industrial and cultural decline, arguing that they developed and marketed a rigid conception of British identity against the changing notions of Britishness in the 1950s. I am also working on the representations of the railway industry in the 1970s and 1980s. I won the John Scholes Transport History Research Essay Competition in 2019 for my paper 'Marketing Modernity in the Age of Enterprise: Business, Family, and Prosperity in British Rails Age of the Train campaign, 1979-1984', which has been published in the Journal of Transport History. I am also working with the Essex Record Office as an Engagement Fellow funded by the British Society for the History of Science. I am currently raising the profile of the Marconi Photographic Section's archival material held at ERO through public talks, publications and a mapping project called MarconiMapper. In addition, it is my aim to combine my love of history with my love of gaming. People give lots of attention to the history of films and literature, but video games have already become the most popular form of media and say a lot about our consumption of history. Publications Smith, Lewis C., Marketing modernity: Business and family in British Rails Age of the Train campaign, 197984. The Journal of Transport History (2019). https://doi.org/10.1177/0022526619848549. Smith, Lewis C., Simulation and Preserved Mobility Spaces, in The Handbook on Methods and Applications for Mobilities Research, Due for publication 2019. Smith, Lewis C., Sewell, Michael G., and Marshall, Sarah E., The Journal of the Ever Present Past, Essex Student Research Online (ESTRO), Vol 10, 2, Special Issue (2019) Available online at https://www1.essex.ac.uk/journals/estro/documents/issue10/vol-10-no-2.pdf. Smith, Lewis C., The Campus Sphere: An Examination of the Role of the Campus in the University of Essex Protests of 1968 and 1972, Essex Student Research Online (ESTRO), Issue 9, Vol 9, 4. (2017). Available online at https://www1.essex.ac.uk/journals/estro/documents/issue9/vol-9-no-4.pdf. Conferences Gender, Labour and Consumption in historical perspective, 13th 14th September 2019. (Paper Accepted) Presenter of paper Marketing modernity: Business and family in British Rails Age of the Train campaign, 197984. University of Essex Department of History Research Seminar Lightning Talk. 13th December 2018. Presenter of BOACs Imagined Burdens: An examination through the British Airways Heritage Collection. Mobile Utopias: Pasts, Presents, Futures. University of Lancaster. In association with the International Association for the History of Transport, Traffic and Mobility. 2nd 4th November 2017. Presenter of The Age of the Train? British Rails Dream of the Utopian Railway. The Ever-Present Past, 14th October 2017. Conference Organiser and Panel Chair.
Qualifications
BA Hons. Modern History and Politcs University of Essex (2016)

MA History University of Essex (2017)
Research and professional activities
Thesis
Ahead in the skies: British State-Owned Airlines and the Perceptions of British Power in the Post-war Jet Age
Supervisor: Matthew Grant , Alix Green
Research interests
Histories of Industry and Transport
I am broadly interested in the relationship between British industry and the public. This often includes looking at industrial advertising and marketing. I am also interested in issues of Identity, Cold War History, and Modern Controversies of History though this industrial lens. My research entails looking at the intersection between interpretations of British Decline, Decolonisation, and representations of British power during the Cold War.
Public History
I work on issues concerning the consumption of history through video games, looking at the way they reflect both their historical setting and reflect the nature of the time they were developed. Additionally, I am interested in the uses of Virtual Reality/ Virtual worlds/ Digital Simulation and their applications for historical research. I have a knowledge of R/Python Programming Languages.
Contact
lcsmit@essex.ac.uk
+44 (0) 1206 872299
Location:
5NW.8.12, Colchester Campus
Working pattern:
My office hours are 11:30 - 12:30 on Thursdays in 5NW.8.12