People
Adrian Mallows
Lecturer
School of Sport, Rehabilitation and Exercise Sciences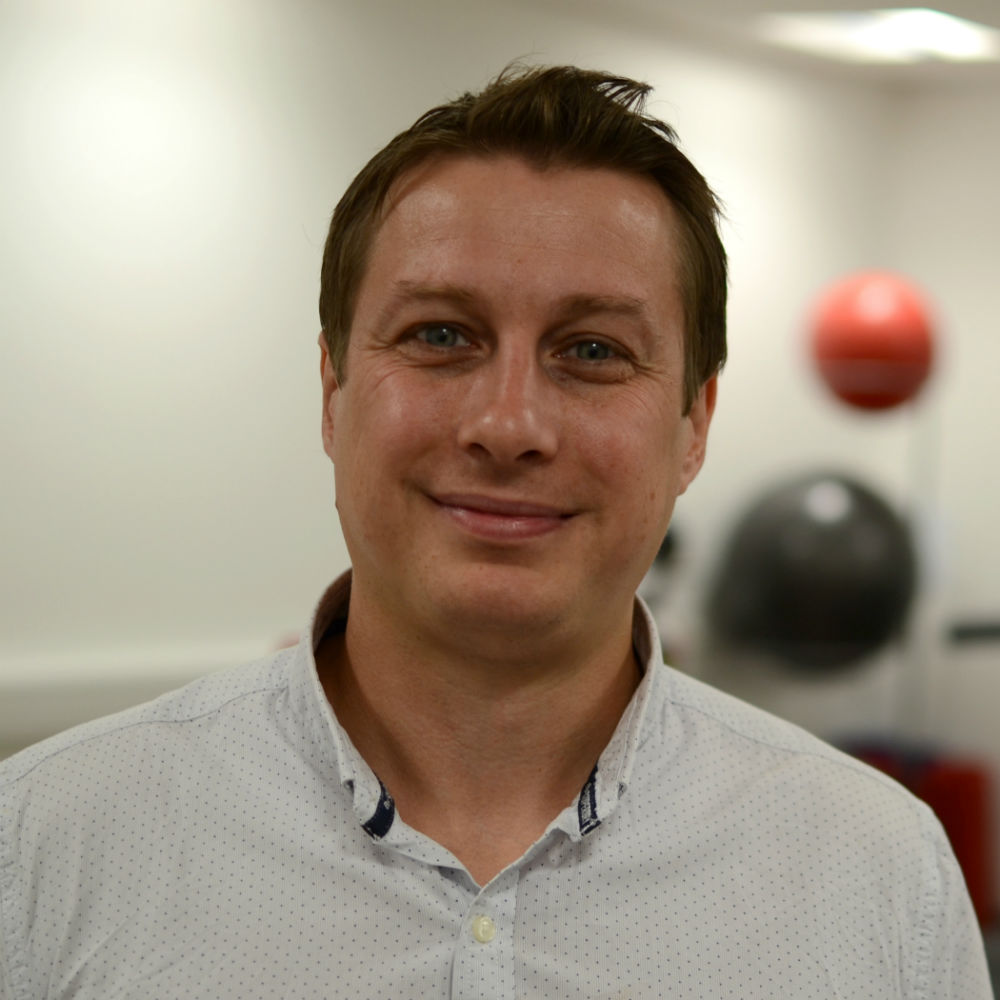 Email

amallows@essex.ac.uk

Telephone

+44 (0) 1206 874252

Location

ESA.3.23, Colchester Campus

Academic support hours

SE701 Musculoskeletal Physiotherapy SE717 Advanced Musculoskeletal Assessment HS858 Using Evidence in Healthcare Practice SE314 Evidencing Practice and Continuing Professional Development
Profile
Biography
Adrian joined the University of Essex in 2013. Prior to joining he worked for the NHS and in the private sector. He is currently undertaking a PhD into optimising outcomes for individuals with tendon-related pain.
Qualifications
MSc Manual Therapy Manchester Metropolitan University,

BSc Physiotherapy Keele University,

PgCHE University of Essex,
Appointments
University of Essex
MSc (pre reg) Physiotherapy Programme Lead, University of Essex (1/8/2016 - present)

Deputy Director of Education, SRES, University of Essex (1/8/2017 - present)
Other academic
External Examiner, University of Brighton (1/8/2015 - present)
Research and professional activities
Research interests
Tendinopathy
Psychosocial influences on outcomes
Client / Therapist interaction
Conferences and presentations
The role of therapeutic alliance and outcome in Achilles tendinopathy
Invited presentation, Annual Conference, St. Mary's Hospital, 23/3/2019
Measuring patient reported outcomes; how useful is the VISA-A?
5th International Scientific Tendinopathy Symposium, University Medical Centre, Groningen, Netherlands, 27/9/2018
Optimising outcomes in common MSK conditions: considering psychological, cognitive & contextual factors
Invited presentation, The Sporting Mind, London, United Kingdom, 22/9/2018
Teaching and supervision
Current teaching responsibilities
Using Evidence in Health Care Practice (HS858)

Evidencing Practice and Continuing Professional Development (SE314)

Musculoskeletal Physiotherapy (SE701)

Using Evidence in Health Care Practice (SE720)

Patient Pathways 1 (SE704)
Publications
Journal articles (7)
Mallows, AJ. and Francis-Wright, M., Perceptions of the usefulness of peer coaching to facilitate clinical reasoning – a survey of physiotherapy students. MedEdPublish. 5 (2)
Mallows, A., Littlewood, C., Jackson, J. and Debenham, J., (2019). Managing Achilles Pain (the MAP study) – A process evaluation of data collection methods. Musculoskeletal Science and Practice. 42, 60-66
Mallows, A., Littlewood, C. and Malliaras, P., (2018). Measuring patient-reported outcomes (PROs/PROMs) in people with Achilles tendinopathy: how useful is the VISA-A?. British Journal of Sports Medicine. 52 (19), 1221-1221
Mallows, AJ., Debenham, JR., Malliaras, P., Stace, R. and Littlewood, C., (2018). Cognitive and contextual factors to optimise clinical outcomes in tendinopathy. British Journal of Sports Medicine. 52 (13), 822-823
Drake, C., Mallows, A. and Littlewood, C., (2018). Psychosocial variables and presence, severity and prognosis of plantar heel pain: A systematic review of cross-sectional and prognostic associations. Musculoskeletal Care. 16 (3), 338-338
Mallows, A., Debenham, J., Walker, T. and Littlewood, C., (2017). Association of psychological variables and outcome in tendinopathy: a systematic review. British Journal of Sports Medicine. 51 (9), 743-748
Debenham, J., Butler, P., Mallows, A. and Wand, BM., (2016). Disrupted Tactile Acuity in People With Achilles Tendinopathy: A Preliminary Case-Control Investigation. Journal of Orthopaedic & Sports Physical Therapy. 46 (12), 1061-1064
Contact
Academic support hours:
SE701 Musculoskeletal Physiotherapy SE717 Advanced Musculoskeletal Assessment HS858 Using Evidence in Healthcare Practice SE314 Evidencing Practice and Continuing Professional Development