People
Dr Anna Di Ronco
Senior Lecturer
Department of Sociology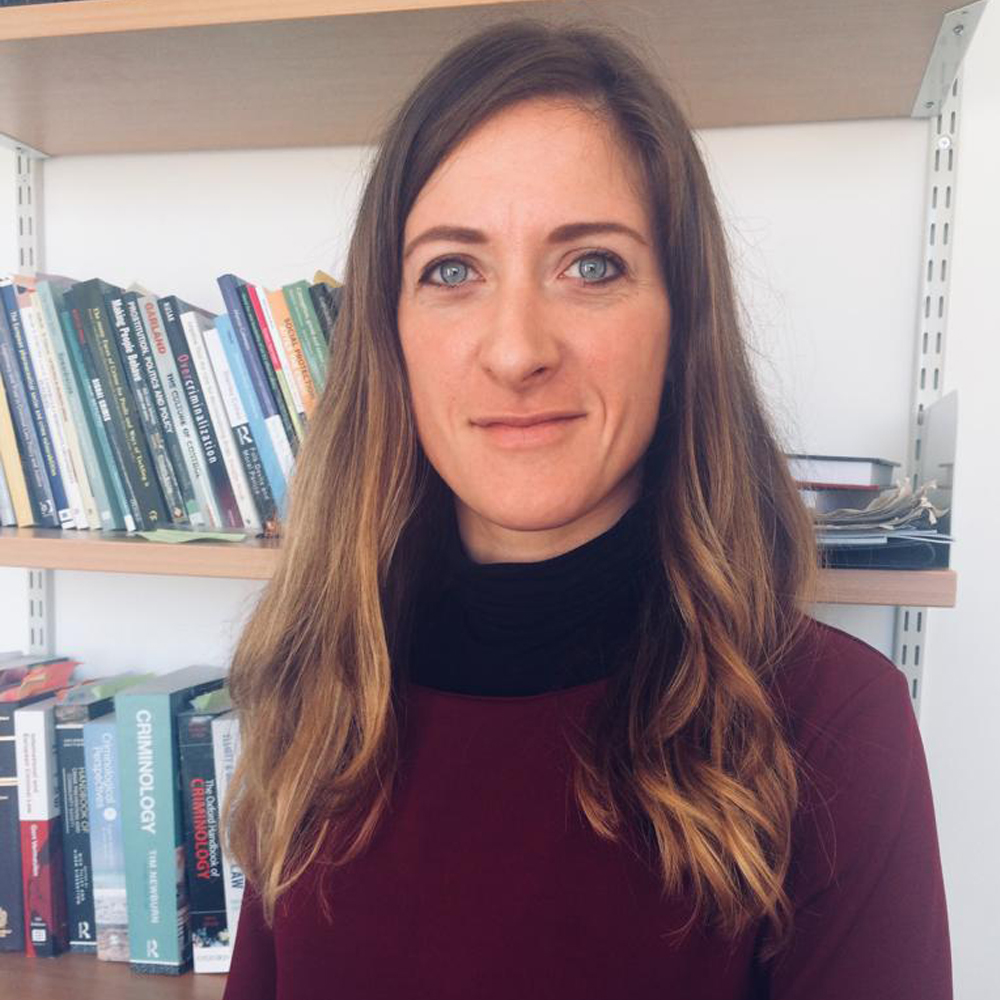 Profile
Biography
Winner of the 'Outstanding Early Career Researcher Award' for the Faculty of Social Sciences 2021 Centre for Criminology Director Member of the Human Rights Centre Anna is senior lecturer in Criminology at the Sociology Department of the University of Essex and Director of its Centre for Criminology. She has joined the Department of Sociology in September 2016, after working at the Department of Criminology, Criminal Law and Social Law of Ghent University (Belgium), where she completed her PhD in Criminology. Before starting her PhD, she completed a five-years degree in law at the University of Trento (Italy). Anna's research focuses on urban incivilities, the regulation of sex work, local-level policing, urban resistance, criminalised environmental movements and social media protest. She published her research extensively in all these areas in internationally peer-reviewed journals, including The European Journal of Criminology, Criminology & Criminal Justice, Crime, Law & Social Change, Crime, Media & Culture, and The International Journal of Crime, Law and Justice. On the topic of the social control of urban incivilities, Anna recently co-edited a book titled 'Harm and Disorder in the Urban Space: Social Control, Sense and Sensibility' (Routledge, 2021). With a team of colleagues from the Centre for Criminology, she also co-authored one of the UK's best selling criminology textbooks (Criminology: A Sociological Introduction, 4th ed.; published by Routledge in 2020). Anna gave numerous presentations and papers at conferences in the UK and abroad, and was also invited to give guest talks in many universities, including UNICAMP (Brazil), VUB and Ghent University (Belgium), the Universities of Trento, Bologna, Pisa and Sassari (Italy), BGU (Israel), the John Jay College of Criminal Justice (CUNY, US), and the University of the Basque Country. In 2017 and 2019 respectively, she visited the Ben-Gurion University of the Negev (BGU, Israel) and the Brussels Centre for Urban Studies (VUB, Belgium) as a visiting research fellow. She is currently Visiting Scholar at the Oñati International Institute for the Sociology of Law (IISL).
Qualifications
Ph.D. in Criminology (Ghent University, Belgium)

LLM (University of Trento, Italy)
Appointments
University of Essex
Personal Tutor, Sociology, University of Essex (1/9/2017 - present)

Event Co-ordinator, Sociology, University of Essex (1/8/2018 - 16/8/2020)

Deputy Director of the Centre for Criminology @UoECrim, Sociology, University of Essex (1/9/2018 - present)

Second Year Module Coordinator and Enrichment, Sociology, University of Essex (5/10/2020 - present)

Centre for Criminology Director, Sociology, University of Essex (2/8/2021 - 31/7/2024)
Research and professional activities
Research interests
Regulation and social control of uncivil behaviour
Criminalisation of sex work
Urban policing
Environmental movements/protest
Non-science-based health practices and their social harm
urban studies
social media protest
Current research
Local-level prostitution policies and practices and their effects on sex workers -- Project funded by The Sociological Review Foundation (£5,149).
Harm and disorder in the urban space: social control, sense and sensibility
Environmental protest in activist practice and social visual media -- funded by the British Academy/Leverhulme Trust Small Research Grant 2018 (SRG18R1\181324).
Conferences and presentations
Contestation and resistance concerning eco-justice and health justice in Italy and Colombia: Two case studies
AnthroCrime 2022 – Anthropology of Crime and Security Conference, 18/5/2022
The preventive turn in crime control: myth or reality? Sex-work-related crime prevention in two European cities
Invited presentation, Guest lecture, University of Bologna, 22/4/2022
Flexing the muscles of power: policing urban eco-justice activism during the pandemic
Invited presentation, La criminalizzazione del dissenso politico e della protesta: casi e temi emergent, University of Bologna, Bologna, Italy, 22/4/2022
The preventive turn in crime control: myth or reality? Sex-work-related crime prevention in two European cities
Invited presentation, Invited talk, Grupo de Estudios sobre la Historia de la Prisión y las Instituciones Punitivas, 6/4/2022
Flexing the muscles of power: policing urban environmental activism during the pandemic
Invited presentation, I Sesión Seminario Internacional de Criminología y Política Criminal, Complutense University of Madrid, Madrid, Spain, 4/4/2022
Constructing sex work as a 'problem' in European cities and punitive responses to it
Invited presentation, Guest lecture, University of the Basque Country, 28/3/2022
"We always have a big stick in reserve": Punitive approaches to disorder and crime in European cities
Invited presentation, Guest Lecture, University of Trento, Trento, Italy, 8/3/2022
When dissent is criminalised: Environmental movements speaking up against megaprojects
Virtual workshop on 'Environmental restorative justice: A new justice framework for preventing and addressing environmental harms', Oñati Institute for the Sociology of Law, 4/6/2021
Regulating migrants in the city: the case of sex work
Invited presentation, Guest Lecture within the Course on "International and European Migration Policies and Law", University of Sassari, 31/5/2021
"Doing social media research'. Representing environmental harm & resistance on Twitter: The case of the TAP pipeline in Italy
Invited presentation, Guest lecture in the course "Qualitative methods in criminology", Ghent University, Guest lecture in the course "Qualitative methods in criminology", Ghent, Belgium, 27/4/2021
Dal centro alla periferia: politiche e pratiche di regolazione del sex work
Invited presentation, Invited speaker. Convegno "Periferia/periferie: teorie, prospettive, contesti" 14 aprile 2021., Pisa, Italy, 14/4/2021
The changing remit and reach of crime prevention and their implications for people's rights
Invited presentation, 73rd Dies Natalis Conference - SIB Groningen, 26/11/2020
Technosocial green resistance: the uses of digital communication technology in activist practice
Annual Conference of the European Society of Criminology (online), 10/9/2020
Invited talk at the University of Trento (Italy)
Trento, Italy, 18/10/2019
Medical misinformation and social harm in non-science-based health practices
EUROCRIM 2019, Ghent 18-21 September 2019, Ghent, Belgium, 20/9/2019
Representations of environmental protest online and offline
EUROCRIM 2019, 18-21 September 2019, Ghent, Belgium, 19/9/2019
Representations of environmental protest online and offline
RESISTING STATE-CORPORATE HARMS IN TIMES OF REPRESSION TOWARDS A THEORY OF INSURRECTION, Barcelona 4-6 September 2019, Barcelona, Spain, 6/9/2019
Law in action: local-level and collaborative governance of prostitution in two European cities
The International Workshop 'The Police and Sex Work: then and now' (Berlin, 13-14 August 2019), Berlin, Germany, 14/8/2019
Invited talk
- Workshop on Migration, Trafficking, sex Work and the Law, Pagù (UNICAMP), Campinas, Brazil, 1-5 July 2019, Campinas, Brazil, 2/7/2019
Law in action: local-level and collaborative governance of prostitution in two European cities
Annual Meeting on Law and Society (Washington DC, May 30 - June 2, 2019), Washington D.C., United States, 31/5/2019
Invited talk at The Research Group Crime and Society (CRiS) (VUB), 28th February 2019
Brussels, Belgium, 28/2/2019
'Law in action: Local-level and collaborative governance of prostitution in two European cities – Antwerp (Belgium) and Catania (Italy)
Invited talk at the Centre of Expertise Gender, Diversity and Intersectionality (RHEA) (VUB), 25th February2019, Brussels, Belgium, 25/2/2019
The Representation of environmental protest online and offline: The case of the TAP pipeline
Invited presentation, Invited talk at the Centre for Environment and Society (CES), 7/11/2018
Activism against medicine on social media: untangling the #novax protest on Twitter
18th Annual Conference of the European Society of Criminology, Sarajevo, Bosnia and Herzegovina, 31/8/2018
Representing environmental harm and resistance on Twitter: The case of the TAP pipeline in Italy
Global Issues, Cultural Perspectives, Utrecht, Netherlands, 29/6/2018
Invited talk at the University of Sassari (Italy)
Invited presentation, research seminar, Sassari, Italy, 16/5/2018
Invited talk at BGU
Invited presentation, Research seminars, Beersheba, Israel, 20/12/2017
Representing environmental harm and resistance on Twitter: The case of the TAP pipeline in Italy
Annual Conference of the European Society of Criminology, Cardiff, United Kingdom, 18/9/2017
Invited talk at John Jay College of Criminal Justice (CUNY)
Invited presentation, 11/9/2017
Teaching and supervision
Current teaching responsibilities
Sociology of Crime and Control (SC204)

Crime, Media and Culture (SC306)

PhD Colloquium 1: Defining Your Research (SC800)
Previous supervision Evangelia Koumentaki
Thesis title:
Vendetta and Restorative Justice: The Case of Sasmos in Highland Crete
Degree subject:
Criminology
Degree type:
Doctor of Philosophy
Awarded date:
21/6/2022
Publications
Grants and funding
2020
ContraST: Roundtable on governing sex work and �human trafficking� in European cities
University of Essex
2018
Law in action: local-level and collaborative governance of prostitution in two European cities
The Sociological Review
The representation of environmental protest Online and Offline
British Academy