People
Dr Ian Daly
Lecturer
School of Computer Science and Electronic Engineering (CSEE)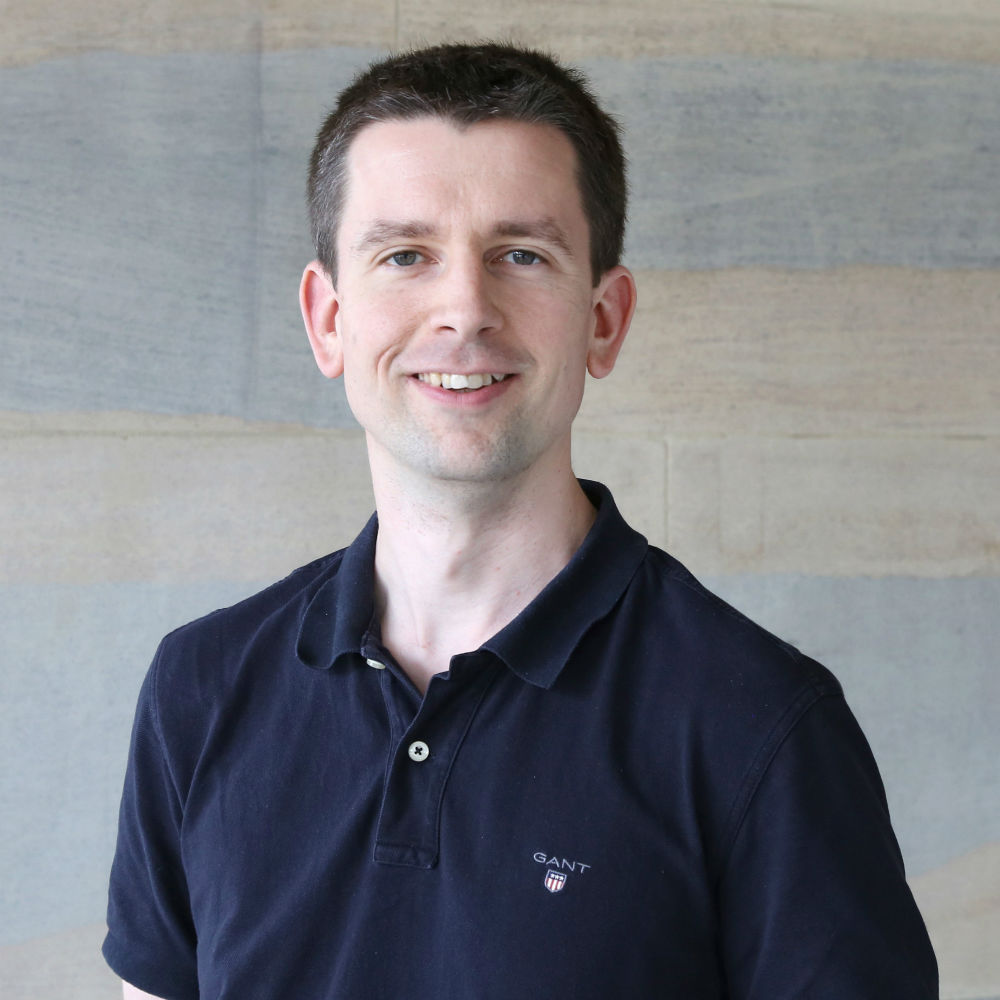 Profile
Biography
I received an M.Eng. degree in Computer science in 2006 and a Ph.D. degree in Cybernetics in 2011 from the University of Reading, U.K. Between May 2011 2013 I worked as a post-doctoral researcher in the Laboratory of Brain-Computer Interfaces, Graz University of Technology, Graz, Austria. There I researched Brain-computer interfaces (BCIs) for individuals with stroke and cerebral palsy. I then worked for three years in the University of Reading developing BCIs for music therapy.
Research and professional activities
Research interests
Brain-computer interfacing
Research and development of devices to support communication between the human brain and a computer.
Key words: Brain-computer interfacing
Machine learning
Understanding how computers can be taught to recognise, identify, and/or predict patterns in data.
Key words: Machine learning
Signal processing
Key words: Signal processing
Functional neural connectivity
Understanding and modelling how neural activity in different brain areas relate to one another and how these relationships change over time and with function.
Key words: Functional connectivity
EEG
Use of EEG to measure and understand brain function, development of signal processing and machine learning methods to understand the EEG, and the use of EEG in the control of brain-computer interfaces.
Key words: EEG
fNIRS
Key words: fNIRS
fMRI
Key words: fMRI
Motor control
Understanding the human motor system and how the brain acts to plan and coordinate movement.
Key words: Motor control
Motor rehabilitation
Development of BCI systems to aid movement rehabilitation after injury or disease.
Key words: Motor rehabilitation
Brain stimulation
Use of brain stimulation to explore motor control, movement planning, and motor learning.
Key words: Brain stimulation
Teaching and supervision
Current teaching responsibilities
Fundamentals of Digital Systems (CE161)

Digital Electronic Systems (CE162)
Publications
Journal articles (49)
Daly, I., Williams, D., Malik, A., Weaver, J., Kirke, A., Hwang, F., Miranda, E. and Nasuto, SJ., (2020). Personalised, Multi-modal, Affective State Detection for Hybrid Brain-Computer Music Interfacing. IEEE Transactions on Affective Computing. 11 (1), 111-124
Jin, J., Li, S., Daly, I., Miao, Y., Liu, C., Wang, X. and Cichocki, A., (2020). The Study of Generic Model Set for Reducing Calibration Time in P300-Based Brain–Computer Interface. IEEE Transactions on Neural Systems and Rehabilitation Engineering. 28 (1), 3-12
Li, S., Jin, J., Daly, I., Zuo, C., Wang, X. and Cichocki, A., (2020). Comparison of the ERP-Based BCI Performance Among Chromatic (RGB) Semitransparent Face Patterns. Frontiers in Neuroscience. 14
Chen, Z., Jin, J., Daly, I., Zuo, C., Wang, X. and Cichocki, A., (2020). Effects of Visual Attention on Tactile P300 BCI. Computational Intelligence and Neuroscience. 2020, 1-11
Daly, I., Nicolaou, N., Williams, D., Hwang, F., Kirke, A., Miranda, E. and Nasuto, SJ., (2020). Neural and physiological data from participants listening to affective music. Scientific Data. 7 (1), 177-
Daly, I., Bourgaize, J. and Vernitski, A., (2019). Mathematical mindsets increase student motivation: Evidence from the EEG. Trends in Neuroscience and Education. 15, 18-28
Feng, JK., Jin, J., Daly, I., Zhou, J., Niu, Y., Wang, X. and Cichocki, A., (2019). An Optimized Channel Selection Method Based on Multifrequency CSP-Rank for Motor Imagery-Based BCI System. Computational Intelligence and Neuroscience. 2019, 1-10
Daly, I., Williams, D., Hwang, F., Kirke, A., Miranda, ER. and Nasuto, SJ., (2019). Electroencephalography reflects the activity of sub-cortical brain regions during approach-withdrawal behaviour while listening to music. Scientific Reports. 9 (1), 9415-
Jin, J., Miao, Y., Daly, I., Zuo, C., Hu, D. and Cichocki, A., (2019). Correlation-based channel selection and regularized feature optimization for MI-based BCI. Neural Networks. 118, 262-270
Cheng, J., Jin, J., Daly, I., Zhang, Y., Wang, B., Wang, X. and Cichocki, A., (2018). Effect of a combination of flip and zooming stimuli on the performance of a visual brain-computer interface for spelling. Biomedical Engineering / Biomedizinische Technik. 0 (0), 29-38
Feng, J., Yin, E., Jin, J., Saab, R., Daly, I., Wang, X., Hu, D. and Cichocki, A., (2018). Towards correlation-based time window selection method for motor imagery BCIs. Neural Networks. 102, 87-95
Williams, NJ., Daly, I. and Nasuto, SJ., (2018). Markov Model-Based Method to Analyse Time-Varying Networks in EEG Task-Related Data. Frontiers in Computational Neuroscience. 12, 76-
Daly, I., Blanchard, C. and Holmes, NP., (2018). Cortical excitability correlates with the event-related desynchronization during brain-computer interface control. Journal of Neural Engineering. 15 (2), 026022-026022
Jin, J., Zhang, H., Daly, I., Wang, X. and Cichocki, A., (2017). An improved P300 pattern in BCI to catch user's attention. Journal of Neural Engineering. 14 (3), 036001-036001
Williams, D., Kirke, A., Miranda, E., Daly, I., Hwang, F., Weaver, J. and Nasuto, S., (2017). Affective Calibration of Musical Feature Sets in an Emotionally Intelligent Music Composition System. ACM Transactions on Applied Perception. 14 (3), 1-13
Nicolaou, N., Malik, A., Daly, I., Weaver, J., Hwang, F., Kirke, A., Roesch, EB., Williams, D., Miranda, ER. and Nasuto, SJ., (2017). Directed Motor-Auditory EEG Connectivity Is Modulated by Music Tempo. Frontiers in Human Neuroscience. 11, 502-
Daly, I., Williams, D., Kirke, A., Weaver, J., Malik, A., Hwang, F., Miranda, E. and Nasuto, SJ., (2016). Affective brain–computer music interfacing. Journal of Neural Engineering. 13 (4), 046022-046022
Huang, M., Daly, I., Jin, J., Zhang, Y., Wang, X. and Cichocki, A., (2016). An exploration of spatial auditory BCI paradigms with different sounds: music notes versus beeps. Cognitive Neurodynamics. 10 (3), 201-209
Zhou, S., Jin, J., Daly, I., Wang, X. and Cichocki, A., (2016). Optimizing the Face Paradigm of BCI System by Modified Mismatch Negative Paradigm. Frontiers in Neuroscience. 10 (OCT), 444-
Chen, L., Jin, J., Daly, I., Zhang, Y., Wang, X. and Cichocki, A., (2016). Exploring Combinations of Different Color and Facial Expression Stimuli for Gaze-Independent BCIs. FRONTIERS IN COMPUTATIONAL NEUROSCIENCE. 10
Chen, L., Jin, J., Daly, I., Zhang, Y., Wang, X. and Cichocki, A., (2016). Exploring Combinations of Different Color and Facial Expression Stimuli for Gaze-Independent BCIs. Frontiers in Computational Neuroscience. 10 (JAN), 5-
Daly, I., Chen, L., Zhou, S. and Jin, J., (2016). An investigation into the use of six facially encoded emotions in brain-computer interfacing. Brain-Computer Interfaces. 3 (1), 59-73
Daly, I., Williams, D., Hallowell, J., Hwang, F., Kirke, A., Malik, A., Weaver, J., Miranda, E. and Nasuto, SJ., (2015). Music-induced emotions can be predicted from a combination of brain activity and acoustic features. Brain and Cognition. 101, 1-11
Wang, M., Daly, I., Allison, BZ., Jin, J., Zhang, Y., Chen, L. and Wang, X., (2015). A new hybrid BCI paradigm based on P300 and SSVEP. Journal of Neuroscience Methods. 244, 16-25
Daly, I., Hwang, F., Kirke, A., Malik, A., Weaver, J., Williams, D., Miranda, E. and Nasuto, SJ., (2015). Automated identification of neural correlates of continuous variables. Journal of Neuroscience Methods. 242, 65-71
Williams, D., Kirke, A., Miranda, E., Daly, I., Hallowell, J., Weaver, J., Malik, A., Roesch, E., Hwang, F. and Nasuto, S., (2015). Investigating Perceived Emotional Correlates of Rhythmic Density in Algorithmic Music Composition. ACM Transactions on Applied Perception. 12 (3), 1-21
Williams, D., Kirke, A., Miranda, ER., Roesch, E., Daly, I. and Nasuto, S., (2015). Investigating affect in algorithmic composition systems. Psychology of Music. 43 (6), 831-854
Singh, H. and Daly, I., (2015). Translational Algorithms: The Heart of a Brain Computer Interface. Intelligent Systems Reference Library. 74, 97-121
Daly, I., Scherer, R., Billinger, M. and Müller-Putz, G., (2015). FORCe: Fully Online and Automated Artifact Removal for Brain-Computer Interfacing.. IEEE Transactions on Neural Systems and Rehabilitation Engineering. 23 (5), 725-736
Bauernfeind, G., Wriessnegger, SC., Daly, I. and Müller-Putz, GR., (2014). Separating heart and brain: on the reduction of physiological noise from multichannel functional near-infrared spectroscopy (fNIRS) signals. Journal of Neural Engineering. 11 (5), 056010-056010
Jin, J., Daly, I., Zhang, Y., Wang, X. and Cichocki, A., (2014). An optimized ERP brain–computer interface based on facial expression changes. Journal of Neural Engineering. 11 (3), 036004-036004
Müller-Putz, GR., Daly, I. and Kaiser, V., (2014). Motor imagery-induced EEG patterns in individuals with spinal cord injury and their impact on brain–computer interface accuracy. Journal of Neural Engineering. 11 (3), 035011-035011
Daly, I., Malik, A., Hwang, F., Roesch, E., Weaver, J., Kirke, A., Williams, D., Miranda, E. and Nasuto, SJ., (2014). Neural correlates of emotional responses to music: An EEG study. Neuroscience Letters. 573, 52-57
Daly, I., Hallowell, J., Hwang, F., Kirke, A., Malik, A., Roesch, E., Weaver, J., Williams, D., Miranda, E. and Nasuto, SJ., (2014). Changes in music tempo entrain movement related brain activity. 2014 36th Annual International Conference of the IEEE Engineering in Medicine and Biology Society. 2014, 4595-4598
Daly, I., Williams, D., Hwang, F., Kirke, A., Malik, A., Roesch, E., Weaver, J., Miranda, E. and Nasuto, SJ., (2014). Investigating music tempo as a feedback mechanism for closed-loop BCI control. Brain-Computer Interfaces. 1 (3-4), 158-169
Daly, I., Faller, J., Scherer, R., Sweeney-Reed, CM., Nasuto, SJ., Billinger, M. and Müller-Putz, GR., (2014). Exploration of the neural correlates of cerebral palsy for sensorimotor BCI control.. Frontiers in Neuroengineering. 7 (JUL), 20-
Daly, I., Nicolaou, N., Nasuto, SJ. and Warwick, K., (2013). Automated Artifact Removal From the Electroencephalogram. Clinical EEG and Neuroscience. 44 (4), 291-306
Daly, I., Sweeney-Reed, CM. and Nasuto, SJ., (2013). Testing for significance of phase synchronisation dynamics in the EEG. Journal of Computational Neuroscience. 34 (3), 411-432
Daly, I., Billinger, M., Laparra-Hernández, J., Aloise, F., García, ML., Faller, J., Scherer, R. and Müller-Putz, G., (2013). On the control of brain-computer interfaces by users with cerebral palsy. Clinical Neurophysiology. 124 (9), 1787-1797
Daly, I., Billinger, M., Scherer, R. and Muller-Putz, G., (2013). On the Automated Removal of Artifacts Related to Head Movement From the EEG. IEEE Transactions on Neural Systems and Rehabilitation Engineering. 21 (3), 427-434
Jin, J., Sellers, EW., Zhang, Y., Daly, I., Wang, X. and Cichocki, A., (2013). Whether generic model works for rapid ERP-based BCI calibration. Journal of Neuroscience Methods. 212 (1), 94-99
Chen, X., Bin, G., Daly, I. and Gao, X., (2013). Event-related desynchronization (ERD) in the alpha band during a hand mental rotation task. Neuroscience Letters. 541, 238-242
Scherer, R., Moitzi, G., Daly, I. and Muller-Putz, GR., (2013). On the Use of Games for Noninvasive EEG-Based Functional Brain Mapping. IEEE Transactions on Computational Intelligence and AI in Games. 5 (2), 155-163
Kaiser, V., Daly, I., Pichiorri, F., Mattia, D., Müller-Putz, GR. and Neuper, C., (2012). Relationship Between Electrical Brain Responses to Motor Imagery and Motor Impairment in Stroke. Stroke. 43 (10), 2735-2740
Breitwieser, C., Daly, I., Neuper, C. and Muller-Putz, GR., (2012). Proposing a Standardized Protocol for Raw Biosignal Transmission. IEEE Transactions on Biomedical Engineering. 59 (3), 852-859
Pfurtscheller, G., Daly, I., Bauernfeind, G. and Müller-Putz, GR., (2012). Coupling between Intrinsic Prefrontal HbO2 and Central EEG Beta Power Oscillations in the Resting Brain. PLoS ONE. 7 (8), e43640-e43640
Daly, I., Pichiorri, F., Faller, J., Kaiser, V., Kreilinger, A., Scherer, R. and Muller-Putz, G., (2012). What does clean EEG look like?. 2012 Annual International Conference of the IEEE Engineering in Medicine and Biology Society. 2012, 3963-3966
Daly, I., Nasuto, SJ. and Warwick, K., (2012). Brain computer interface control via functional connectivity dynamics. Pattern Recognition. 45 (6), 2123-2136
Daly, I., Nasuto, SJ. and Warwick, K., (2011). Single tap identification for fast BCI control. Cognitive Neurodynamics. 5 (1), 21-30
Book chapters (5)
Daly, I., Affective Brain-Computer Interfacing and Methods for Affective State Detection. In: BRAIN-COMPUTER INTERFACES HANDBOOK Technological and Theoretical Advances
Wagner, I., Daly, I. and Valjamae, A., Non-visual and Multisensory BCI Systems: Present and Future. Springer. 978-3-642-29745-8
Billinger, M., Daly, I., Kaiser, V., Jin, J., Allison, B., Mueller-Putz, G. and Brunner, C., Is it Significant? Guidelines for Reporting BCI Performance. Springer. 978-3-642-29745-8
Daly, I. and Williams, D., (2020). "Hello Computer, How Am I Feeling?", Case Studies of Neural Technology to Measure Emotions. In: Neuroergonomics. Springer International Publishing. 193- 219. 9783030347833
Daly, I., Roesch, E., Weaver, J. and Nasuto, S., (2014). Machine learning to identify neural correlates of music and emotions. In: Guide to Brain-Computer Music Interfacing. Editors: Miranda, E., . Springer. 89- 103. 978-1-4471-6583-5
Conferences (25)
Minqiang, H., Daly, I., Xingyu, W. and Jing, J., A pleasant auditory brain computer interface using natural environment sounds
Daly, I., Ho, A., Marcon, J., Hwang, F., Williams, D., Kirke, A., Miranda, E. and Nasuto, SJ., Affective Brain Computer Music Interfacing: A Case Study Of Use By An IndividualWith Huntington's Disease
Daly, I. and Williams, D., BCI for ensemble music making and performance: why and how (not how and why)
Williams, D., Mears, J., Kirke, A., Miranda, E., Daly, I., Malik, A., Weaver, J., Hwang, F. and Nasuto, S., A Perceptual and Affective Evaluation of an Affectively -Driven Engine for Video Game Soundtracking
Daly, I., Williams, D., Kirke, A., Weaver, J., Mailk, A., Hwang, F., Miranda, E. and Nasuto, S., An Affective Brain-Computer Music Interface
Wairagkar, M., Daly, I., Hayashi, Y. and Nasuto, S., Autocorrelation based EEG Dynamics depicting Motor Intention
Williams, D., Kirke, A., Eaton, J., Miranda, E., Daly, I., Weaver, J., Roesch, E., Hwang, F. and Nasuto, S., Dynamic game soundtrack generation in response to a continuously varying emotional trajectory
Daly, I., Jin, J., Huang, M., Zhang, Y. and Wang, X., An optimized auditory P300 BCI based on spatially distributed sound in different voices
Daly, I., Williams, D., Hwang, F., Kirke, A., Malik, A., Roesch, E., Weaver, J., Miranda, E. and Nasuto, S., Brain-computer music interfacing for continuous control of musical tempo
Wairagkar, M., Daly, I., Hayashi, Y. and Nasuto, S., Novel single trial movement classification based on temporal dynamics of EEG
Bauernfeind, G., Wriessnegger, S., Daly, I. and Mueller-Putz, G., Physiological noise reduction from multichannel functional near-infrared spectroscopy (fNIRS) signals
Daly, I., Aloise, F., Arico, P., Belda, J., Billinger, M., Bolinger, E., Cincotti, F., Hettich, D., Iosa, M., Laparra-Hernandez, J., Scherer, R. and Mueller-Putz, G., Rapid prototyping for hBCI users with Cerebral palsy
Daly, I., Grissmann, S., Brunner, C., Allison, B. and Mueller-Putz, G., Hybrid BCI classification via dynamic re-weighting
Bauernfeind, G., Daly, I. and Mueller-Putz, G., On the removal of physiological artifacts from fNIRS
Portelli, A., Daly, I., Spencer, M. and Nasuto, S., Low Cost Brain Computer Interface First Results
Williams, N., Daly, I., Nasuto, S., Saddy, D. and Warwick, K., ERP classification using Empirical mode decomposition
Daly, I., Nastuo, S. and Warwick, K., Phase resetting as a mechanism of ERP generation: evidence from the power spectrum
Daly, I., Malik, A., Weaver, J., Hwang, F., Nasuto, SJ., Williams, D., Kirke, A. and Miranda, E., (2015). Identifying music-induced emotions from EEG for use in brain-computer music interfacing
Daly, I., Malik, A., Weaver, J., Hwang, F., Nasuto, SJ., Williams, D., Kirke, A. and Miranda, E., (2015). Towards human-computer music interaction: Evaluation of an affectively-driven music generator via galvanic skin response measures
Jin, J., Zhang, Y., Wang, X., Daly, I. and Cichocki, A., (2014). Decreasing the interference of visual-based P300 BCI using facial expression changes
Williams, D., Kirke, A., Miranda, E., Daly, I., Roesch, EB., Weaver, JCE. and Nasuto, SJ., (2014). Evaluating perceptual separation in a pilot system for affective composition
Daly, I., Scherer, R. and Müller-Putz, G., (2013). A Population Search Algorithm for Clustered Multivariate Solutions: Application to EEG Connectivity
Daly, I., Billinger, M., Scherer, R. and Müller-Putz, G., (2013). Brain-computer interfacing for users with cerebral palsy, challenges and opportunities
Daly, I., Williams, N., Nasuto, SJ., Warwick, K. and Saddy, D., (2010). Single trial BCI operation via Wackermann parameters
Daly, I., Nasuto, SJ. and Warwick, K., (2008). Towards natural human computer interaction in BCI
Thesis dissertation (1)
Daly, I., (2011). Phase Synchronisation in Brain Computer Interfacing
Grants and funding
2018
Development of novel functions for wearable technology to be deployed in healthcare applications
Innovate UK (formerly Technology Strategy Board)