People
Lewis Smith
Assistant Lecturer
Department of History
Postgraduate Research Student
Department of History
Chief Content Author and Web Editor
UK Data Archive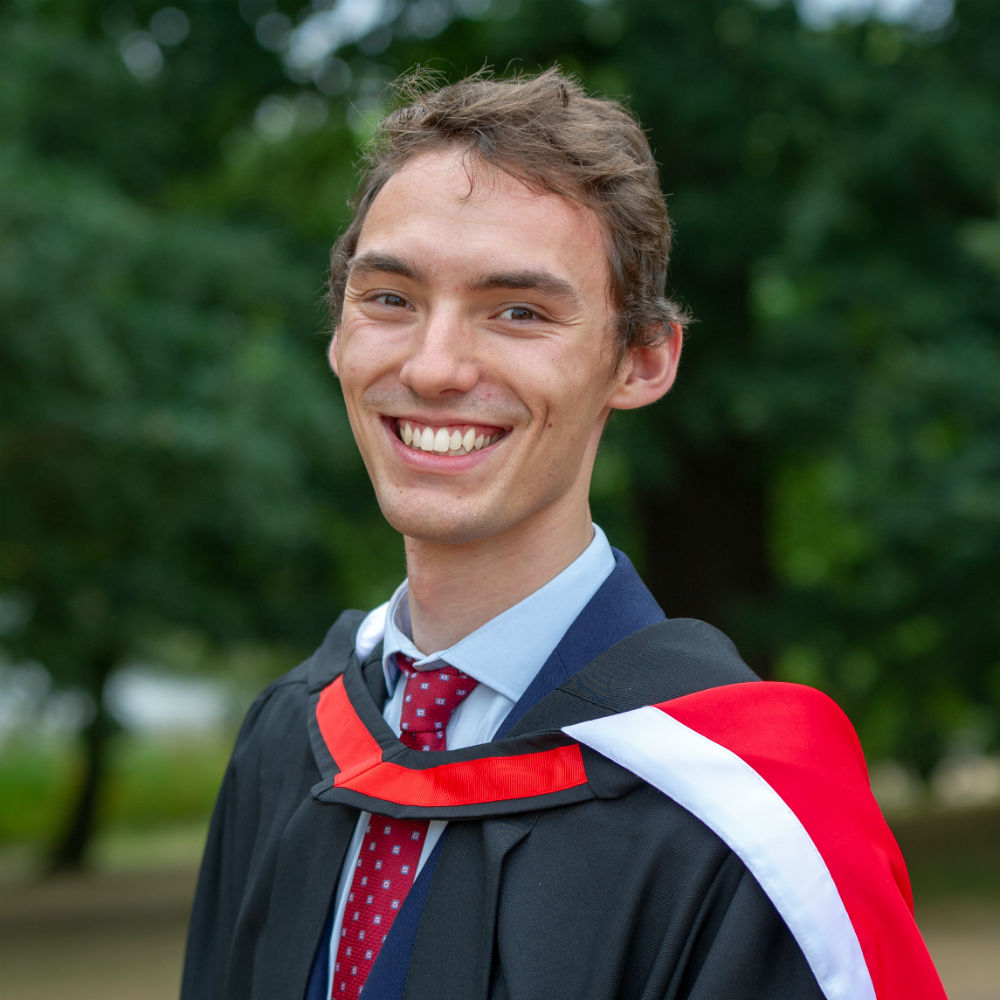 Profile
Twentieth Century History

Business History

Advertising and Marketing History

Gender and Race in History

Transport History

Video Games and Historical Consumption
Biography
I am originally from Ipswich where I went to Copleston High School for my GCSE's and A-Levels. I came to Essex in 2013 as an undergraduate, where I studied Modern History and Politics. It was only upon writing my undergraduate dissertation that I realised that I wanted to stay in academia: I really loved crafting and owning a unique argument and becoming the expert. Since 2016 I have been a PhD student in the department and since 2018 I have been a Graduate Teaching Assistant for Making of the Modern World, and in 2020 I teach on Pandemics: Lessons from History. I now teach Becoming a Historian, The Great American Experiment, Approaches to History and People and Power. I have two fields: I have always been really interested in Industry, most notably the aviation and railway industries after the Second World War. In my thesis, I argue that the British Overseas Airways Corporation (BOAC) were essentially a propaganda organisation which aimed to subvert the British experience of social, economic, industrial and cultural decline, arguing that they developed and marketed a rigid conception of British identity against the changing notions of Britishness in the 1950s. I am also working on the representations of the railway industry in the 1970s and 1980s. I won the John Scholes Transport History Research Essay Competition in 2019 for my paper 'Marketing Modernity in the Age of Enterprise: Business, Family, and Prosperity in British Rails Age of the Train campaign, 1979-1984', which has been published in the Journal of Transport History. I am also keenly interested in historical engagement with the public and wider social policy. In 2019 I worked with the Essex Record Office as an Engagement Fellow funded by the British Society for the History of Science which aimed to raise engagement with the Marconi Photographic Section's records which I helped through public talks, publications and a mapping project called MarconiMapper, and for a following project titled Science, Technology and Innovation at the Essex Archives where I worked to deliver an engagement strategy for enhancing individual, community and commercial engagement using digital tools and creative practice. In mid 2020 I co-founded History Indoors with my colleague Michael Sewell, which aims to bring academic history to the public virtually. I am also a co-convenor of the Transport & Mobility History Seminar at the Institute of Historical Research in London. In 2020 I worked in the Cabinet Office as part of the Open Innovation Team in Whitehall to help better connect academic research and policymaking for a variety of research projects. Academic Published Smith, Lewis C., Erica Durante, Air Travel Fiction and Film: Cloud People. Book Review for The Journal of Transport History. (Invited, 2021). OnlineFirst available at https://doi.org/10.1177/00225266211017259. Smith, Lewis C., Simulation and Preserved Mobility Spaces, in Büscher, Monika, Freudendal-Pedersen, Malene, Kesselring, Sven and Grauslund Kristensen, Nikolaj (eds.) The Handbook on Methods and Applications for Mobilities Research, Edward Elgar Publishing, 2020, pp.325-334. Smith, Lewis C., Marketing modernity: Business and family in British Rails Age of the Train campaign, 197984. The Journal of Transport History, 40(3), 363394. (2019). https://doi.org/10.1177/0022526619848549. Smith, Lewis C., Sewell, Michael G., and Marshall, Sarah E., The Journal of the Ever Present Past, Essex Student Research Online (ESTRO), Vol 10, 2, Special Issue (2019) Available online at https://www1.essex.ac.uk/journals/estro/documents/issue10/vol-10-no-2.pdf. Smith, Lewis C., The Campus Sphere: An Examination of the Role of the Campus in the University of Essex Protests of 1968 and 1972, Essex Student Research Online (ESTRO), Issue 9, Vol 9, 4. (2017). Available online at https://www1.essex.ac.uk/journals/estro/documents/issue9/vol-9-no-4.pdf. Academic In Production Document Case Study Advertisements (Brillo Print Advertisements, 1943-1967), Research Methods for Primary Sources, Adam Matthew Digital and SAGE Research Methods. (Commissioned, publication imminent, proofs reviewed). Smith, Lewis C., Travel Inter-City Like the Men Do: Gendering Britains Railway Advertising 1965-1979. Journal TBC (estimated submission date November 2021 with Twentieth Century British History).
Qualifications
BA Hons. Modern History and Politcs University of Essex (2016)

MA History University of Essex (2017)
Research and professional activities
Thesis
Midwife at Britains Rebirth: The British Overseas Airways Corporation and the projection of British Power
This thesis uses business records, newspapers and other media to explore the political economy of BOAC's post war operations between 1945 and 1965, arguing that it helped to communicate the advantages of the British ideology throughout the world in an effort to compete in the Cold War. Whilst this objective ultimately failed, BOAC, and the subsequent British Airways (BA) continued to act as a guardian of stability in the values associated with the British nation, particularly through times of cr
Supervisor: Matthew Grant , Alix Green
Research interests
Histories of Industry and Advertising
I am broadly interested in the relationship between British industry and the public and how it communicated to the public through advertising and marketing. I am also interested in issues of Identity, Cold War History, and Modern Controversies of History though this industrial and advertising lens. My research involves looking at the intersection between notions of British Decline, Decolonisation, and representations of British power during the Cold War, as well as how interpretations of society
Public and Digital History
I work on issues concerning the consumption of history through video games, looking at the way they reflect both their historical setting and reflect the nature of the time they were developed. Additionally, I am interested in the uses of Virtual Reality/ Virtual worlds/ Digital Simulation and their applications for historical research. I have a knowledge of R/Python Programming Languages.
Contact
lcsmit@essex.ac.uk
+44 (0) 1206 872319
Location:
2N2.5A.32, Colchester Campus
Working pattern:
My office hours are 10:30 - 11:30 on Mondays (via Zoom ID: 914 5079 4544)