People
Dr Pallavi Singh
Lecturer
School of Life Sciences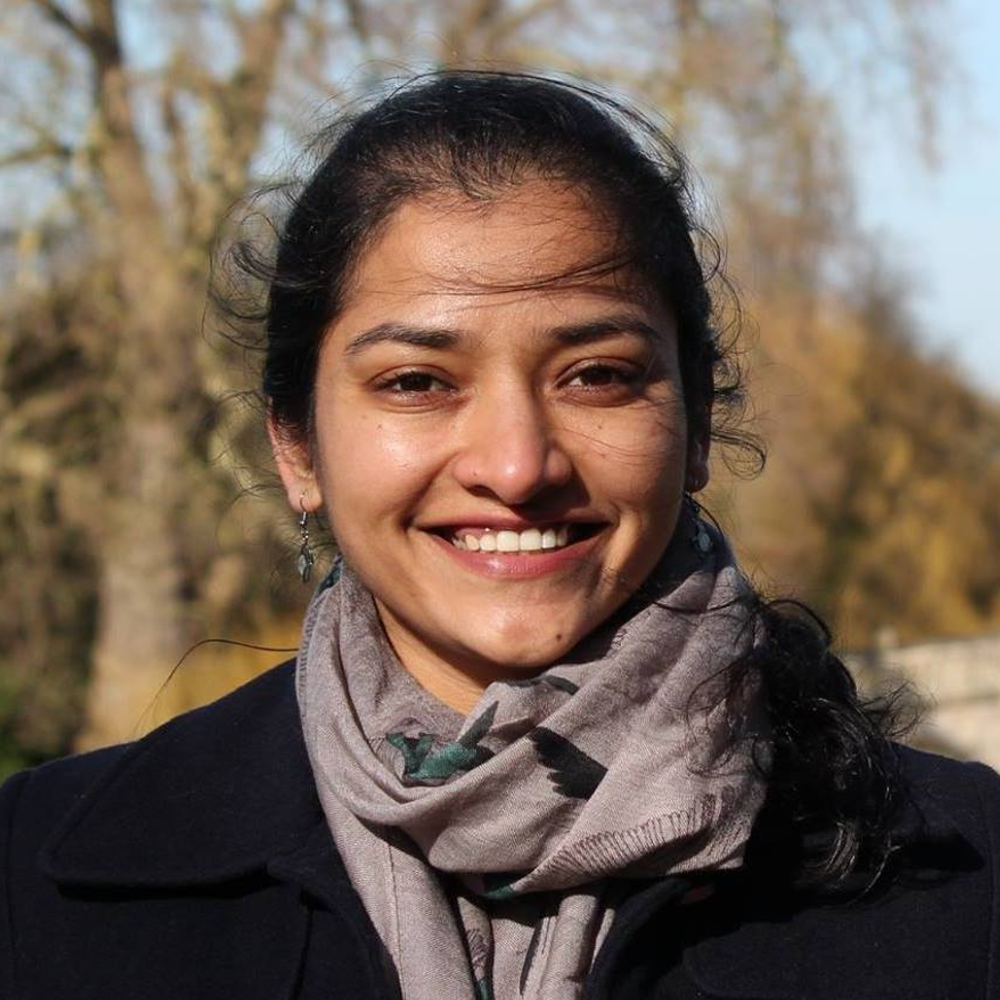 Profile
Biography
Pallavi's research interests in plant biology are focussed on understanding and enhancing photosynthesis. She is interested in using both natural variation as well as cutting edge cell-specific approaches to improve the understanding of complex traits such as water use efficiency and whole plant water use strategy. She is a PI within Essex Plant Innovation Centre (EPIC), employing advanced interdisciplinary technologies to deliver a step change in agricultural productivity and sustainability. Research Group: Plant Molecular Physiology and Functional Genomics Head of Group: Dr Pallavi Singh Research Group Website: https://www.thepallavisinghlab.com/ Keen on being a part of the exciting research journey: We are interested in developing projects in the areas outlined in the Research section. If you are interested in coming to work with us, either as a PhD or as a postdoc, please contact Dr Pallavi Singh (pallavi.singh@essex.ac.uk).
Qualifications
PhD National Institute of Plant Genome Research, (2016)

Masters in Biochemistry University of Lucknow, (2010)

Bachelors of Science University of Lucknow, (2008)
Appointments
University of Essex
Lecturer (Assistant Professor), School of Life Sciences, University of Essex (1/9/2022 - present)
Other academic
Post Doctoral Research Associate, Department of Plant Sciences, University of Cambridge (12/1/2017 - 31/8/2022)

John Henry Coates Fellow, Emmanuel College, University of Cambridge (1/10/2018 - 30/9/2022)

Visiting Fellow/Postdoctoral Fellow, Plant Pathology and Plant-Microbe Biology, Cornell University (1/10/2015 - 31/10/2016)

Visiting Scientist, National Institute of Plant Genome Research (1/11/2016 - 10/1/2017)

Visiting Researcher, Department of Plant Sciences, University of Cambridge (1/9/2022 - present)
Research and professional activities
Research interests
Understanding and Enhancing Water Use in C4 Plants
Water use efficiency is a complex trait, governed by different factors, like leaf-anatomy, leaf hydraulics, carboxylation capacity, spatial patterning of stomata, co-ordination of subsidiary cells, underlying mesophyll airspaces and CO2 diffusion etc. This project will use a wide array of functional genomic and synthetic biology techniques to understand the different parameters resulting in high water use efficiency in C4 plants. Gynandropsis gynadra and Amaranthus will be used as dicots while Millets and Sorghum will be used as monocot systems to understand water use efficiency traits.
Cereal Grafting: A research tool to understand plant physiology and genetics
Although water use efficiency within a species can vary, the greatest differences are found across species, for example crops like sorghum and millets have higher water use efficiency compared with the global staples like rice and wheat. This project will harness the great potential that the field of monocot grafting entails for crop improvement. Interspecific-cereal grafts will be generated to understand water use strategies that will in turn enable sustained food production.
Identifying Guard Cell Specific Promoters in Cereals
Our present understanding of water use is limited and particularly biased by study of certain dicot species like Arabidopsis, tomato and soyabean. There is an obvious gap in our understanding of traits underpinning water use, particularly in rice and wheat. This research project will address the following overarching question. -Can the targeted manipulation of the guard cell in cereal crops like rice and wheat lead to changes in water use efficiency? For guard cell-specific manipulation, the project will employ a wide range of complementary techniques such as Single-Cell Sequencing, Epidermal Cell Enrichment, RNA-Sequencing, and genome editing.
Teaching and supervision
Current teaching responsibilities
Transferable Skills in Life Sciences (BS143)

Genome Science (BS222)

Cell Biology (BS225)

Plant Molecular Physiology and Genetics (BS234)

Cell Biology and Cellular Pathology (BS238)

Issues in Biomolecular Science (BS304)

Plant Biotechnology (BS323)

Plant Biology and Ecosystems (BS111)
Publications
Publications (2)
Simpson, CJC., Singh, P., Sogbohossou, DEO., Schranz, ME. and Hibberd, JM., (2023). A rapid method to quantify vein density in C4plants using starch staining
Hoang, NV., Sogbohossou, EOD., Xiong, W., Simpson, CJC., Singh, P., van den Bergh, E., Zhu, X-G., Brautigam, A., Weber, APM., van Haarst, JC., Schijlen, EGWM., Hendre, PS., Deynze, AV., Achigan-Dako, EG., Hibberd, JM. and Schranz, ME., (2022). The genome of Gynandropsis gynandra provides insights into whole-genome duplications and the evolution of C4 photosynthesis in Cleomaceae
Journal articles (22)
Hoang, NV., Sogbohossou, EOD., Xiong, W., Simpson, CJC., Singh, P., Walden, N., van den Bergh, E., Becker, FFM., Li, Z., Zhu, X-G., Brautigam, A., Weber, APM., van Haarst, JC., Schijlen, EGWM., Hendre, PS., Van Deynze, A., Achigan-Dako, EG., Hibberd, JM. and Schranz, ME., (2023). The Gynandropsis gynandra genome provides insights into whole-genome duplications and the evolution of C4 photosynthesis in Cleomaceae. The Plant Cell. 35 (5), 1334-1359
Singh, P., Stevenson, SR., Dickinson, PJ., Reyna-Llorens, I., Tripathi, A., Reeves, G., Schreier, TB. and Hibberd, JM., (2023). C 4 gene induction during de-etiolation evolved through changes in cis to allow integration with ancestral C 3 gene regulatory networks. Science Advances. 9 (13), eade9756-
Simpson, CJC., Singh, P., Sogbohossou, DEO., Eric Schranz, M. and Hibberd, JM., (2023). A rapid method to quantify vein density in C4 plants using starch staining. Plant, Cell & Environment. 46 (9), 2928-2938
Simpson, CJC., Reeves, G., Tripathi, A., Singh, P. and Hibberd, JM., (2022). Using breeding and quantitative genetics to understand the C4 pathway.. Journal of Experimental Botany. 73 (10), 3072-3084
Reeves, G., Tripathi, A., Singh, P., Jones, MRW., Nanda, AK., Musseau, C., Craze, M., Bowden, S., Walker, JF., Bentley, AR., Melnyk, CW. and Hibberd, JM., (2022). Monocotyledonous plants graft at the embryonic root–shoot interface. Nature. 602 (7896), 280-286
Singh, P. and Reeves, G., (2020). Constructing the bundle sheath towards enhanced photosynthesis. Journal of Experimental Botany. 71 (4), 1206-1209
Singh, P., Stevenson, SR., Reyna-Llorens, I., Reeves, G., Schreier, TB. and Hibberd, JM., (2020). Induction of C4genes evolved through changes incisallowing integration into ancestral C3gene regulatory networks
Burgess, SJ., Reyna-Llorens, I., Stevenson, SR., Singh, P., Jaeger, K. and Hibberd, JM., (2019). Genome-Wide Transcription Factor Binding in Leaves from C3 and C4 Grasses. The Plant Cell. 31 (10), 2297-2314
Singh, P., Ara, H., Tayyeba, S., Pandey, C. and Sinha, AK., (2019). Development of efficient protocol for rice transformation overexpressing MAP kinase and their effect on root phenotypic traits. Protoplasma. 256 (4), 997-1011
Reeves, G., Singh, P., Rossberg, TA., Deedi Sogbohossou, EO., Eric Schranz, M. and Hibberd, JM., (2018). Quantitative variation within a species for traits underpinning C4 photosynthesis
Reyna-Llorens, I., Burgess, SJ., Reeves, G., Singh, P., Stevenson, SR., Williams, BP., Stanley, S. and Hibberd, JM., (2018). Ancient duons may underpin spatial patterning of gene expression in C 4 leaves. Proceedings of the National Academy of Sciences. 115 (8), 1931-1936
Reeves, G., Singh, P., Rossberg, TA., Sogbohossou, EOD., Schranz, ME. and Hibberd, JM., (2018). Natural Variation within a Species for Traits Underpinning C4 Photosynthesis. Plant Physiology. 177 (2), 504-512
Wang, L., Rinaldi, FC., Singh, P., Doyle, EL., Dubrow, ZE., Tran, TT., Pérez-Quintero, AL., Szurek, B. and Bogdanove, AJ., (2017). TAL Effectors Drive Transcription Bidirectionally in Plants. Molecular Plant. 10 (2), 285-296
Burgess, SJ., Reyna-Llorens, I., Stevenson, SR., Singh, P., Jaeger, K. and Hibberd, JM., (2017). Genome-wide transcription factor binding in leaves from C3 and C4 grasses
Singh, P. and Sinha, AK., (2016). Differential expression of Mitogen Activated Protein Kinase (MAPK) cascade components post submergence in Oryza sativa ssp indica cv Pusa Basmati 1. Plant Signaling & Behavior. 11 (9), e1213936-e1213936
Singh, P. and Sinha, AK., (2016). A Positive Feedback Loop Governed by SUB1A1 Interaction with MITOGEN-ACTIVATED PROTEIN KINASE3 Imparts Submergence Tolerance in Rice. The Plant Cell. 28 (5), 1127-1143
Wankhede, DP., Singh, P., Jaggi, M., Rao, KP., Raina, SK. and Sinha, AK., (2016). UV‐B activates a 'group A' mitogen activated protein kinase in Oryza sativa. Journal of Plant Biochemistry and Biotechnology. 25 (4), 392-399
Singh, P., Mohanta, TK. and Sinha, AK., (2015). Unraveling the Intricate Nexus of Molecular Mechanisms Governing Rice Root Development: OsMPK3/6 and Auxin-Cytokinin Interplay. PLOS ONE. 10 (4), e0123620-e0123620
Wankhede, DP., Misra, M., Singh, P. and Sinha, AK., (2013). Rice Mitogen Activated Protein Kinase Kinase and Mitogen Activated Protein Kinase Interaction Network Revealed by In-Silico Docking and Yeast Two-Hybrid Approaches. PLoS ONE. 8 (5), e65011-e65011
Wankhede, DP., Kumar, K., Singh, P. and Sinha, AK., (2013). Involvement of mitogen activated protein kinase kinase 6 in UV induced transcripts accumulation of genes in phytoalexin biosynthesis in rice. Rice. 6 (1), 35-
Sheikh, AH., Raghuram, B., Jalmi, SK., Wankhede, DP., Singh, P. and Sinha, AK., (2013). Interaction between two rice mitogen activated protein kinases and its possible role in plant defense. BMC Plant Biology. 13 (1), 121-
Raina, SK., Wankhede, DP., Jaggi, M., Singh, P., Jalmi, SK., Raghuram, B., Sheikh, AH. and Sinha, AK., (2012). CrMPK3, a mitogen activated protein kinase from Catharanthus roseusand its possible role in stress induced biosynthesis of monoterpenoid indole alkaloids. BMC Plant Biology. 12 (1), 134-
Book chapters (1)
Singh, P. and Sinha, AK., (2017). Interplay Between Auxin and Cytokinin and Its Impact on Mitogen Activated Protein Kinase (MAPK). In: Methods in Molecular Biology. Springer New York. 93- 100. 9781493968299
Grants and funding
2023
Exploiting the genetic and nutritional potential of small-grains for generating climate smart crops for the future
University of Essex BBSRC Flexible Talent Mobility Award
Dynamic Plant Phenotyping for future proofing crop productivity
Biotechnology and Biological Sciences Research Council
Contact
Location:
Colchester Campus