People
Dr Filippo Prischi
Lecturer
School of Biological Sciences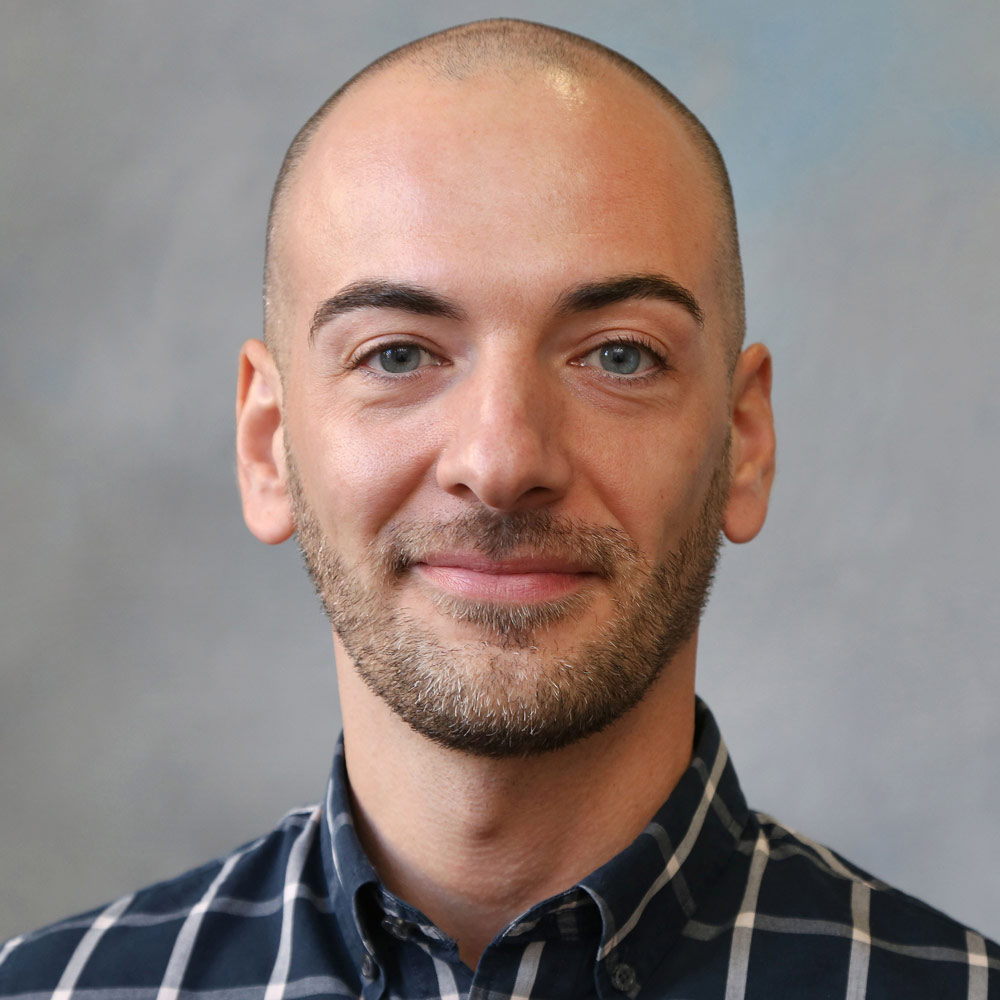 Email

fprischi@essex.ac.uk

Telephone

+44 (0) 1206 873370

Location

3SW.5.03, Colchester Campus

Academic support hours

Open door policy
Profile
Biography
My main research interest is the characterisation of protein complexes that are part of signalling pathways, in normal and cancer cells. My goal is to understand how the molecular machines that compose signalling pathways work together to transfer information. In my group, we use a cutting-edge multi-disciplinary approach that combines biophysical, enzymatic and structural studies. We use X-ray crystallography, Nuclear Magnetic Resonance and Electron Microscopy to visualise macromolecules at atomic and near atomic resolution. At this scale we are able to dissect cellular processes at a molecular level and describe the details at the base of cancer formation or development, thereby providing a solid base for medical advance. The main focus of our research is the study of phosphorylation cascades and protein kinases.
Qualifications
Fellow of the Higher Education Academy University of Essex,

Executive Education in Project Management University College London, (2013)

PhD University of Siena and National Institute for Medical Research (MRC), (2010)

M.Sc. Molecular and Cell Biology (110 summa cum laude) University of Siena, (2005)

B.Sc. Biological Sciences (110 summa cum laude) University of Siena, (2003)
Appointments
University of Essex
Lecturer, School of Biological Sciences, University of Essex (1/6/2015 - present)
Other academic
Research Associate, Imperial College London (1/5/2010 - 30/4/2015)
Research and professional activities
Research interests
Signalling pathways in lung and breast cancer
Drug Discovery
Protein Phosphoregulation
Structural Biology
Ribosomal Kinases pathways
Current research
Targeting RSK4 prevents both chemoresistance and metastasis in lung and bladder cancer
Understanding how RSKs regulate Transcription Factors in Triple Negative Breast Cancer
The role of 90kDa Ribosomal S6 Kinases in Steroid signalling
Flipping the switch; regulating protein synthesis in response to stress
Conferences and presentations
Purification of protein kinases for structural studies
Invited presentation, AKTA user day, Cambridge, Cambridge, United Kingdom, 21/9/2018
The black sheep of the p90 ribosomal kinase family: RSK4
Invited presentation, 5th EEMaX Symposium, 5th EEMaX Symposium, Colchester, United Kingdom, 20/12/2016
Interaction of BiP and ER stress transducers is disrupted by unfolded proteins causing UPR activation.
16th International MST Meeting, 16th International MST Meeting, Munich, Germany, 18/6/2015
Phosphoregulation of human Ire1 RNase splicing activity.
CSB Open Day, CSB Open Day, London, United Kingdom, 6/6/2014
Phosphoregulation of human Ire1 RNase splicing activity.
Molecular Chaperones and Stress Responses, Molecular Chaperones and Stress Responses, Cold Spring Harbor, United States, 5/2014
Biochemical and Biophysical characterisation of c-IRE1 alpha
OPPF-MPL HTP Protein Production and Crystallization, Harwell, United Kingdom, 4/2011
Insights into the structure of an IscS/IscU/CyaY complex.
Invited presentation, Frataxin meeting, London, United Kingdom, 5/2010
Understanding the iron-sulphur cluster machinery: Characterization of the E. coli IscS/IscU complex.
IIX CCPN meeting, Penrith, United Kingdom, 8/2008
Key features of EF-HAND superfamily structure using paramagnetic probe.
XXXVII National NMR Congress, Verbania Pallanza, Italy, 9/2007
Dimerization of alpha-bungarotoxin monitored by paramagnetic probes: a new approach for protein-protein interaction studies.
Invited presentation, XXXVI National NMR Congress, Vietri Sul Mare, Italy, 9/2006
Teaching and supervision
Current teaching responsibilities
Biochemistry of Macromolecules (BS131)

Scientific and Transferable Skills for Biosciences (BS141)

Enterprise and Employability for the Biosciences (BS211)

Protein Bioinformatics (BS281)

Research Project in Biomolecular Science (BS831)
Publications
Journal articles (20)
Popovic, M., Sanfelice, D., Pastore, C., Prischi, F., Temussi, PA. and Pastore, A., (2015). Selective observation of the disordered import signal of a globular protein by in-cell NMR: The example of frataxins. Protein Science. 24 (6), 996-1003
Carrara, M., Prischi, F., Nowak, PR., Kopp, MC. and Ali, MMU., (2015). Noncanonical binding of BiP ATPase domain to Ire1 and Perk is dissociated by unfolded protein CH1 to initiate ER stress signaling. eLife. 4 (4)
Prischi, F., Nowak, PR., Carrara, M. and Ali, MMU., (2014). Phosphoregulation of Ire1 RNase splicing activity. Nature Communications. 5 (1), 3554-
Carrara, M., Prischi, F. and Ali, M., (2013). UPR Signal Activation by Luminal Sensor Domains. International Journal of Molecular Sciences. 14 (3), 6454-6466
Bernini, A., Spiga, O., Venditti, V., Prischi, F., Botta, M., Croce, G., Tong, AP-L., Wong, W-T. and Niccolai, N., (2012). The use of a ditopic Gd(III) paramagnetic probe for investigating α-bungarotoxin surface accessibility. Journal of Inorganic Biochemistry. 112, 25-31
Prischi, F., Konarev, PV., Iannuzzi, C., Pastore, C., Adinolfi, S., Martin, SR., Svergun, DI. and Pastore, A., (2010). Structural bases for the interaction of frataxin with the central components of iron–sulphur cluster assembly. Nature Communications. 1 (7), 95-95
Prischi, F., Pastore, C., Carroni, M., Iannuzzi, C., Adinolfi, S., Temussi, P. and Pastore, A., (2010). Of the vulnerability of orphan complex proteins: The case study of the E. coli IscU and IscS proteins. Protein Expression and Purification. 73 (2), 161-166
Prischi, F., Giannini, C., Adinolfi, S. and Pastore, A., (2009). The N-terminus of mature human frataxin is intrinsically unfolded. FEBS Journal. 276 (22), 6669-6676
Adinolfi, S., Iannuzzi, C., Prischi, F., Pastore, C., Iametti, S., Martin, SR., Bonomi, F. and Pastore, A., (2009). Bacterial frataxin CyaY is the gatekeeper of iron-sulfur cluster formation catalyzed by IscS. Nature Structural & Molecular Biology. 16 (4), 390-396
Bernini, A., Venditti, V., Spiga, O., Ciutti, A., Prischi, F., Consonni, R., Zetta, L., Arosio, I., Fusi, P., Guagliardi, A. and Niccolai, N., (2008). NMR studies on the surface accessibility of the archaeal protein Sso7d by using TEMPOL and Gd(III)(DTPA-BMA) as paramagnetic probes. Biophysical Chemistry. 137 (2-3), 71-75
Venditti, V., Bernini, A., De Simone, A., Spiga, O., Prischi, F. and Niccolai, N., (2007). MD and NMR studies of α-bungarotoxin surface accessibility. Biochemical and Biophysical Research Communications. 356 (1), 114-117
Bernini, A., Spiga, O., Venditti, V., Prischi, F., Bracci, L., Tong, AP-L., Wong, W-T. and Niccolai, N., (2006). NMR Studies of Lysozyme Surface Accessibility by Using Different Paramagnetic Relaxation Probes. Journal of the American Chemical Society. 128 (29), 9290-9291
Bernini, A., Spiga, O., Venditti, V., Prischi, F., Bracci, L., Huang, J., Tanner, JA. and Niccolai, N., (2006). Tertiary structure prediction of SARS coronavirus helicase. Biochemical and Biophysical Research Communications. 343 (4), 1101-1104
Bernini, A., Spiga, O., Ciutti, A., Venditti, V., Prischi, F., Governatori, M., Bracci, L., Lelli, B., Pileri, S., Botta, M., Barge, A., Laschi, F. and Niccolai, N., (2006). NMR studies of BPTI aggregation by using paramagnetic relaxation reagents. Biochimica et Biophysica Acta (BBA) - Proteins and Proteomics. 1764 (5), 856-862
Spiga, O., Padula, MG., Scarselli, M., Ciutti, A., Bernini, A., Venditti, V., Prischi, F., Falciani, C., Lozzi, L., Bracci, L., Valensin, PE., Caudai, C. and Niccolai, N., (2006). Structurally driven selection of human hepatitis C virus mimotopes. Antiviral Therapy. 11 (7), 917-922
Spiga, O., Bernini, A., Ciutti, A., Chiellini, S., Menciassi, N., Finetti, F., Causarono, V., Anselmi, F., Prischi, F. and Niccolai, N., (2003). Molecular modelling of S1 and S2 subunits of SARS coronavirus spike glycoprotein. Biochemical and Biophysical Research Communications. 310 (1), 78-83
Grants and funding
2018
Flipping the switch; regulating protein synthesis in response to stress
Leverhulme Trust
2016
Phosphoregulation of Transcription Factors in Triple Negative Breast Cancer
Wellcome Trust
Contact
Academic support hours:
Open door policy