People
Professor Tracey Loughran
Professor
Department of History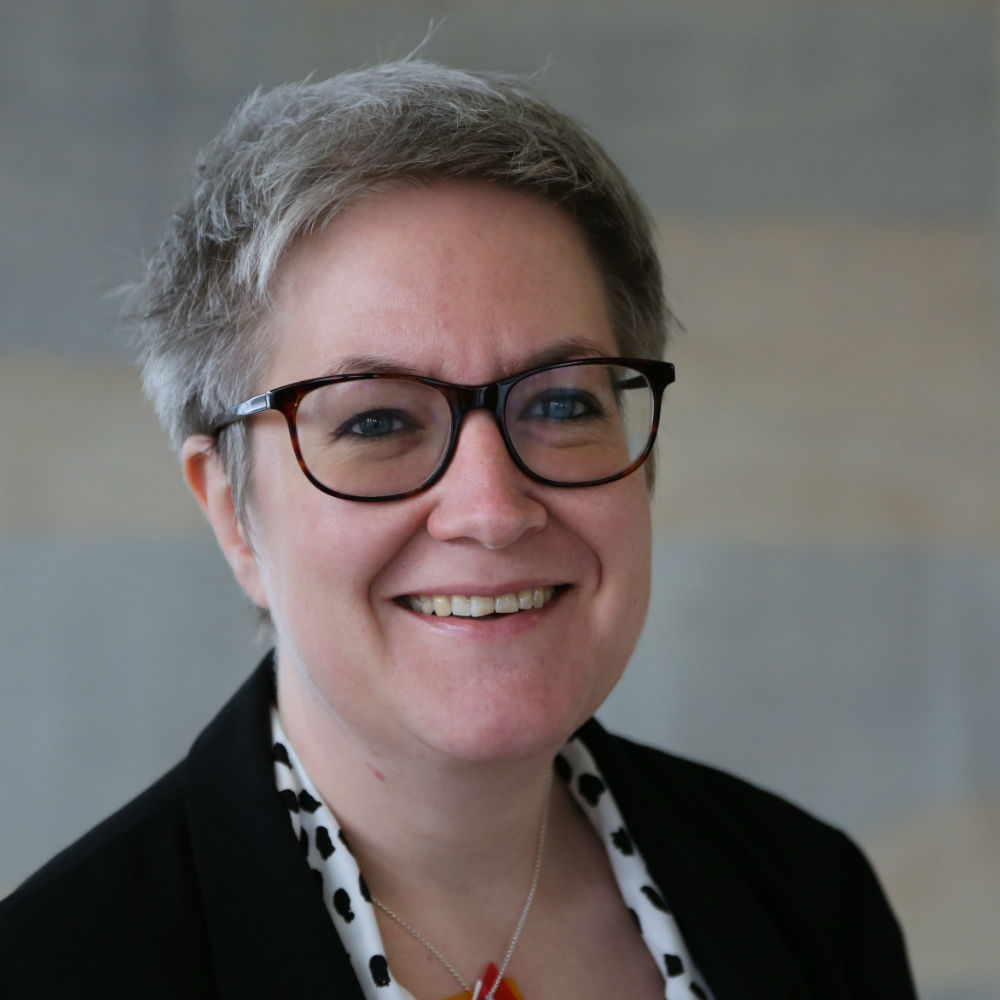 Email

t.loughran@essex.ac.uk

Telephone

+44 (0) 1206 873954

Location

5NW.7.11, Colchester Campus

Academic support hours

Mondays, 11-12noon (in person, 5NW.7.11); via Zoom at other times by appointment
Profile
Biography
I was a scholarship girl in an age when there were not many of us. Between the ages of eleven and eighteen I daily crossed between two very different worlds of home and school. The longer this went on, the less I belonged in either place. Education simultaneously alienated and liberated me. I found refuge in the worlds that literature and history opened up. In the pages of history books, I learnt that difference is a source of strength; that knowledge and creativity are the foundations of resilience; and that if you know where you come from, its easier to see all the different places you might go, and all the many ways you might get there. History continues to anchor and to inspire me, and over and again teaches the lesson that its possible to change the world and yourself. I studied History at Queen Mary, University of London, gaining my PhD in 2006. I spent two years at the University of Manchester, first as a University Teaching Associate and then as an ESRC Postdoctoral Research Fellow, before taking up a lectureship at Cardiff University in 2008. I joined the University of Essex in 2017. I am a historian of twentieth-century Britain, with particular interests in the interaction of ideas and experiences of body, mind and self. My research centres on how knowledge is constructed, translated and transformed across different disciplines and in different contexts. This thread connects my diverse research projects on 'shell-shock' in First World War Britain, psychoanalysis in the interwar period, and female bodily experiences, psychological subjectivities and familial relationships in postwar Britain. I am also interested in historical theory, the methodological challenges that researching subjectivity poses, and the relationships between academic disciplines. These interests feed into my work as an Editor on the Bloomsbury History: Theory and Method resource, my edited collection A Practical Guide to Studying History: Skills and Approaches (Bloomsbury, 2018), and the collection I co-edited with Dawn Mannay (Cardiff University) on Emotions and the Researcher: Sites, Subjectivities and Relationships(Emerald, 2018). I currently hold a Wellcome Trust Investigator Award in Humanities and Social Sciences for the project Body, Self and Family: Womens Psychological, Emotional and Bodily Health in Britain, c. 1960-1990 (2017-2020). This major project explores how the sweeping social changes of the postwar period affected womens understandings of bodily and emotional wellbeing. It examines womens experiences at different stages of the life cycle, their relationships to different sources of expertise and authority, and how new reproductive and contraceptive technologies affected their lives. It builds on and interacts with previous British Academy-funded projects on the emotional labour of agony aunts in postwar Britain, and on representations of health and illness in popular womens magazines. The aim of all these projects is to create an intersectional history of gender, body and the self from the bottom-up rather than the top-down.
Qualifications
2006: PhD in History: 'Shell-Shock in First World War Britain: An Intellectual and Medical History, c. 1860-1920'. Queen Mary, University of London.

2002: MA in Intellectual and Cultural History, Queen Mary, University of London.

2001: BA (Hons), History, Queen Mary, University of London.
Appointments
University of Essex
Professor of Modern History, History, University of Essex (1/10/2019 - present)
Other academic
Professor in History, History, University of Essex (1/10/2019 - present)

Reader in History, History, University of Essex (17/7/2017 - 30/9/2019)

Senior Lecturer, History, Cardiff University (1/9/2014 - 16/7/2017)

Lecturer, History, Cardiff University (1/9/2008 - 31/8/2014)
Research and professional activities
Research interests
History of gender
History of psychology and psychoanalysis
History of subjectivity
History of war and trauma
Historiography and historical theory
Conferences and presentations
Rethinking and Reframing the 'Everyday': New Approaches to Women's Health in Britain, 1960-1990
Society for the Social History of Medicine Biennial Conference, Conformity, Resistance, Dialogue and Deviance in Health and Medicine, Liverpool, United Kingdom, 13/7/2018
Mediating Emotion, Making Trauma: Doctors, Patients and the Construction of "Shell-Shock" in First World War Britain
Invited presentation, Uncovering Civilian War Trauma among Female Belgian Refugees in Scotland During the First World War Workshop Series, Glasgow, United Kingdom, 13/10/2017
Blind Spots and Moments of Estrangement: Subjectivity, Class and Education in British Autobiographical Histories, Senses, Emotions and the Affective Turn: International Society for Cultural History Annual Conference, Umeå University, Sweden, June 2017.
Umeå, Sweden, 2017
Shell-Shock, Scientific Story-Telling, and Emotion: Changes in Medical Writing and in Doctor-Patient Relationships in First World War Britain, Doctor, Doctor: Global and Historical Perspectives on the Doctor-Patient Relationship, Oxford University, March 2017.
Oxford, United Kingdom, 2017
Case A1. Private, 24 Years of Age: Individuals, Emotions and Scientific Story-Telling. Keynote lecture, War & Emotions symposium, Melbourne Museum, 17-18 September 2015.
Melbourne, Australia, 2015
Biology, Trauma and History: Shell-Shock in British Medical Literature and Fiction, c. 1914-1930, Biological Discourses: The Language of Science and Literature around 1900 Conference, University of Cambridge, April 2015.
Cambridge, United Kingdom, 2015
Graham Greene, Psychoanalysis and the Modern in Interwar Britain, Being Modern: Science and Culture in the Early 20th Century Conference, Institute of Historical Research, April 2015.
Institute of Historical Research, London, United Kingdom, 2015
Animal Bodies: Biology, Trauma and Shell-Shock in First World War Britain, Royal Historical Society Symposium, Conflict in Historical Perspective, January 2015.
2015
Emotion, Character and Self-Control: Shell-Shock, the First World War, and Medical Understandings of Human Nature, History Research Seminar, Essex University, November 2014.
Colchester, United Kingdom, 2014
Divided Selves: Graham Greene and Psychoanalysis in Interwar Britain, Graham Greene International Festival, September 2014.
Berkhamsted, United Kingdom, 2014
Constructing and Re-constructing Trauma: Psychological Medicine and the Creation and Transformation of Discursive Communities, c. 1914-1945, (Re)Constructing Communities in Europe, 1918-1968 Conference, Radbourd University Nijmegen, Netherlands, December 2013.
Nijmegen, Netherlands, 2013
Minding the Gap: History in Practice and Approaches to First Year Undergraduate Learning, Teaching History in Higher Education, Higher Education Academys 15th Annual Teaching and Learning Conference for Historians in Higher Education, September 2013.
York, United Kingdom, 2013
You are a hero: Masculinity and Will in British Medical Discourse on Shell-Shock, c. 1914-1920, History of Psychiatry Seminar, Oxford Brookes University, February 2013.
Oxford, United Kingdom, 2013
Feminism, Femininity, and (In)Fertility: Popular Discourses on Gender and Reproduction in 1970s Britain and Beyond, London School of Hygiene and Tropical Medicine History Centre Seminar Series, January 2015.
London, United Kingdom, 1970
Teaching and supervision
Current teaching responsibilities
The Making of the Modern World since 1750 (HR100)

Becoming a Historian (HR101)

Choosing Your Past: How to Design and Manage a Research Project (HR231)

History Works: Career Portfolio (HR510)

Our Voices, Our Pasts, Our Histories: Oral History in Practice (HR679)

Research Project (HR831)

Rethinking History: Approaches, Theories and Concepts (HR924)

History, Power, and Identity (HR930)

Dissertation (HR931)

Making History, Sharing History: Sources, Methods, and Audiences for Historical Research (HR935)

Archives and Power (HR949)

War on the Mind: Historical Perspectives on Trauma (HR967)

War and Memory: Remembering, Commemorating, and Contesting the Past (HR970)

Clinical Applications 3 (HS782)

Clinical Intervention and Skills 3 (HS785)
Previous supervision Hannah Jane Froom
Thesis title:
Menstruation, Subjectivity and Constructions of Girlhood in Britain, 1960-1980
Degree subject:
History
Degree type:
Doctor of Philosophy
Awarded date:
5/7/2022
Publications
Journal articles (7)
Loughran, T., Mahoney, K. and Payling, D., Reflections on Remote Interviewing in a Pandemic: Negotiating Participant and Researcher Emotions. Oral History. 50 (1), 37-48
Payling, D. and Loughran, T., Nude Bodies in British Women's Magazines at the Turn of the 1970s: Agency, Spectatorship, and the Sexual Revolution. Social History of Medicine
Loughran, T., Mahoney, K. and Payling, D., (2021). Women's voices, emotion and empathy: engaging different publics with 'everyday' health histories. Medical Humanities, medhum-2020-012102-2020
Loughran, TL., (2013). A crisis of masculinity? Re-writing the history of shell-shock and gender in First World War Britain. History Compass. 11 (9), 727-738
Loughran, TL., (2012). Shell-shock, trauma and the First World War: The making of a diagnosis and its histories. Journal of the History of Medicine and Allied Sciences. 67 (1), 94-119
Loughran, TL., (2009). Shell-shock and psychological medicine in First World War Britain. Social History of Medicine. 22 (1), 79-95
Loughran, TL., (2008). Hysteria and neurasthenia in pre-1914 British medical discourse and in histories of shell-shock. History of Psychiatry. 19 (1), 25-46
Books (6)
Boncori, I. and Loughran, T., (2020). Health and Wellbeing - The University of Essex Reader. Editoriale Scientifica. 978-88-9391-663-9
Loughran, T., (2018). Emotion and the Researcher Sites, Subjectivities, and Relationships. Emerald Group Publishing. 178714612X. 9781787146129
Loughran, T. and Mannay, D., (2018). Introduction: Why Emotion Matters. Emerald Publishing Limited
Loughran, T. and Mannay, D., (2018). Afterword. Emerald Publishing Limited
Book chapters (11)
Loughran, T., (2020). Distance, intimacy and identification: Reflections on writing a history of trauma. In: Museums, History and the Intimate Experience of the Great War: Love and Sorrow. 136- 150. 9780367487546
Loughran, T., (2019). 'Must Try Harder': Anxiety, Self-Shaping and Structures of Feeling, Then and Now. In: Clever Girls Autoethnographies of Class, Gender and Ethnicity. Editors: Goode, J., . Palgrave Macmillan. 215- 236. 9783030296575
Loughran, T., (2018). Blind Spots and Moments of Estrangement: Subjectivity, Class and Education in British 'Autobiographical Histories'. In: Emotion and the Researcher: Sites, Subjectivities and Relationships. Editors: Loughran, T. and Mannay, D., . Emerald Group Publishing. 245- 259. 978-1-78714-612-9
Loughran, TL., (2017). Conditions of Illusion: Agency, Feminism, and Cultural Representations of Infertility in Britain, c. 1960-80. In: The Palgrave Handbook of Infertility in History: Approaches, Contexts and Perspectives. Editors: Loughran, T. and Davis, G., . Palgrave Macmillan. 431- 459. 978-1-137-52080-7
Loughran, TL. and Davis, G., (2017). Introduction: Infertility in History: Approaches, Contexts and Perspectives. In: The Palgrave Handbook of Infertility in History: Approaches, Contexts and Perspectives. Editors: Loughran, TL. and Davis, G., . Palgrave Macmillan. 1- 35. 1137520795. 978-1137520791
Loughran, TL. and Davis, G., (2017). Introduction: The Body Politic and the Infertile Body. In: The Palgrave Handbook of Infertility in History: Approaches, Contexts and Perspectives. Editors: Loughran, TL. and Davis, G., . Palgrave Macmillan. 143- 149. 1137520795. 978-1137520791
Loughran, TL. and Davis, G., (2017). Introduction: Defining the 'Problem': Perspectives on Infertility. In: The Palgrave Handbook of Infertility in History: Approaches, Contexts and Perspectives. Editors: Loughran, TL. and Davis, G., . Palgrave Macmillan. 29- 35. 1137520795. 978-1137520791
Loughran, TL. and Davis, G., (2017). Introduction: Situating Infertility in Medicine. In: The Palgrave Handbook of Infertility in History: Approaches, Contexts and Perspectives. Editors: Loughran, TL., . Palgrave Macmillan. 265- 271. 1137520795. 978-1137520791
Loughran, TL. and Davis, G., (2017). Introduction: Agency and Invisibility in Constructions of Infertility. In: The Palgrave Handbook of Infertility in History: Approaches, Contexts and Perspectives. Editors: Loughran, TL. and Davis, G., . Palgrave Macmillan. 385- 391. 1137520795. 978-1137520791
Loughran, TL. and Davis, G., (2017). Introduction: Reproductive Technologies and Imagined Futures. In: The Palgrave Handbook of Infertility in History: Approaches, Contexts and Perspectives. Editors: Loughran, TL. and Davis, G., . Palgrave Macmillan. 539- 544. 1137520795. 978-1137520791
Loughran, TL., (2016). Landscape for a good woman's weekly: finding magazines in post-war British history and culture. In: Women in Magazines: Research, Representation, Production and Consumption. Editors: Ritchie, R., Hawkins, S., Phillips, N. and Kleinberg, SJ., . Routledge. 40- 52. 9781138824027
Grants and funding
2017
Body, Self and Family: Women's Psychological, Emotional and Bodily Health in Britain, c. 1960-1990
Wellcome Trust
Body, Self and Family: Women's Psychological, Emotional and Bodily Health in Britain, c1960-1990
British Academy
Body, Self and Family: Women�s Psychological, Emotional and Bodily Health in Britain, c. 1960-1990
Wellcome Trust
1900
Body, Self and Family: Women�s Psychological, Emotional and Bodily Health in Britain, c 1960-1990
Wellcome Trust
Contact
Academic support hours:
Mondays, 11-12noon (in person, 5NW.7.11); via Zoom at other times by appointment