People
Dr Ramy Hammady
Lecturer
School of Computer Science and Electronic Engineering (CSEE)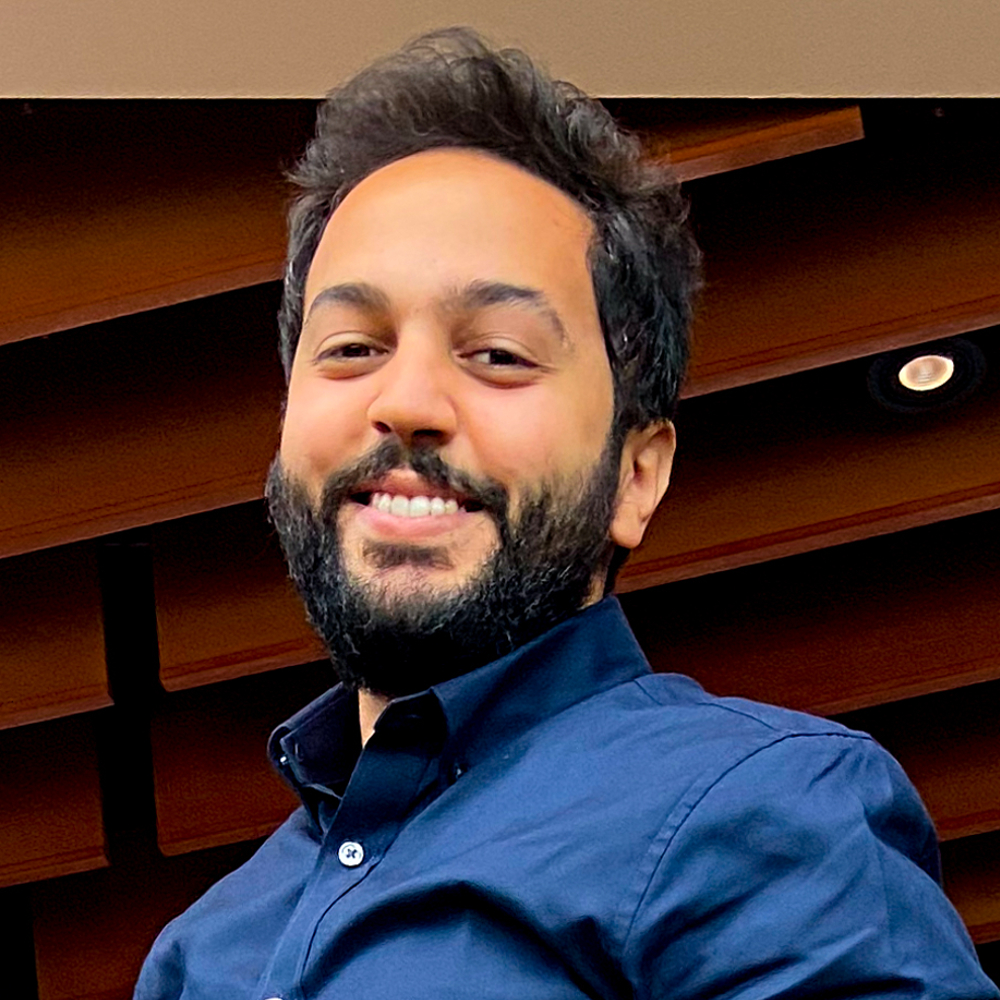 Email

r.hammady@essex.ac.uk

Location

4B.526, Colchester Campus

Academic support hours

Tuesday from 12-2 pm
Profile
Biography
Ramy is a Microsoft Most Valuable Professional (MVP) in Mixed Reality in addition to being a researcher/expert in AR/VR/MR technologies and a game designer/developer. He has industrial outputs in the immersive systems and games domains. He has extensive experience using Microsoft HoloLens and other AR glasses. He has also been one of the pioneers who used MS HoloLens since 2016. Ramy obtained his Ph.D. from Staffordshire University in 2019, and he has a number of publications in serious games; gamification; augmented, virtual, and mixed reality technologies in cultural heritage. Ramy is also one of the Adobe Certified Expert and Instructors in the UK. in 2019, Ramy started to work at Solent University as a lecturer in computer games, and in 2021 he became a Senior Lecturer and the department lead of research in Games. - External Validation Expert to MA Games for Coventry University - Started teaching since 2010 and has teaching experience in the UK and in different countries. - Six years of experience in the industry of games and immersive systems.
Qualifications
PhD Digital Design and Technology Staffordshire University, (2019)

Master Helwan University, (2013)
Appointments
University of Essex
Senior Lecturer in Computer Games, Computer Games, Southampton Solent University (1/4/2021 - 28/2/2022)

Lecturer in Computer Games, Computer Games, Southampton Solent University (1/4/2019 - 31/3/2021)
Research and professional activities
Research interests
Immersive Technology (XR, AR, VR, MR)
My research area is immersive technologies or XR (Extended Reality) including (Augmented Reality, Virtual Reality, Mixed Reality) in different sectors such as Cultural Heritage, Health, Education, Training)
Key words: Augmented Reality
Gamification & Serious Gaming
Gamification and serious games in various sectors and applications.
Key words: Gamification
Game Design
Game Art and Design including theories, practical pipelines and methodologies.
Key words: Game Design
Interactive Design UI/UX
Interactive design and UI/UX specifically for immersive experiences
Key words: UI/UX
Teaching and supervision
Current teaching responsibilities
Professional Practice and Research Methodology (CE902)

Group Project (Incorporating a Game Jam) (CE913)
Publications
Journal articles (7)
Albeedan, M., Kolivand, H., Hammady, R. and Saba, T., Seamless Crime Scene Reconstruction in Mixed Reality for Investigation Training: A Design and Evaluation Study. IEEE Transactions on Learning Technologies
Albeedan, M., Kolivand, H. and Hammady, R., (2023). Evaluating the Use of Mixed Reality in CSI Training through the Integration of the Task-Technology Fit and Technology Acceptance Model. IEEE Access. 11, 114732-114752
Hammady, R. and Sylvester, A., (2022). Serious Gaming for Behaviour Change: A Systematic Review. Information. 13 (3), 142-142
Hammady, R., Ma, M., AL-Kalha, Z. and Strathearn, C., (2021). A framework for constructing and evaluating the role of MR as a holographic virtual guide in museums. Virtual Reality. 25 (4), 895-918
Hammady, R., Ma, M., Strathern, C. and Mohamad, M., (2020). Design and development of a spatial mixed reality touring guide to the Egyptian museum. Multimedia Tools and Applications. 79 (5-6), 3465-3494
Hammady, R., Ma, M. and Strathearn, C., (2020). Ambient Information Visualisation and Visitors' Technology Acceptance of Mixed Reality in Museums. Journal on Computing and Cultural Heritage. 13 (2), 1-22
Hammady, R., Ma, M. and Strathearn, C., (2019). User experience design for mixed reality: a case study of HoloLens in museum. International Journal of Technology Marketing. 13 (3/4), 354-354
Book chapters (5)
Tolba, R., Elarif, T., Zaki, T. and Hammady, R., (2023). Mobile Augmented Reality for Learning Phonetics: A Review (2012–2022). In: Extended Reality and Metaverse Immersive Technology in Times of Crisis. Springer Nature. 87- 98. 3031253906. 9783031253904
Hammady, R. and Ma`, M., (2021). Interactive Mixed Reality Technology for Boosting the Level of Museum Engagement. In: Augmented Reality and Virtual Reality. Springer International Publishing. 77- 91. 9783030680855
Hammady, R. and Ma, M., (2019). Designing Spatial UI as a Solution of the Narrow FOV of Microsoft HoloLens: Prototype of Virtual Museum Guide. In: Augmented Reality and Virtual Reality. Springer International Publishing. 217- 231. 9783030062453
Hammady, R., Ma, M. and Powell, A., (2018). User Experience of Markerless Augmented Reality Applications in Cultural Heritage Museums: 'MuseumEye' as a Case Study. In: Lecture Notes in Computer Science. Springer International Publishing. 349- 369. 9783319952819
Hammady, R., Ma, M. and Temple, N., (2016). Augmented Reality and Gamification in Heritage Museums. In: Serious Games. Springer International Publishing. 181- 187. 9783319458403
Conferences (6)
Hammady, R. and Ma, M., Augmented reality and gamification in heritage museums
Albeedan, M., Kolivand, H. and Hammady, R., Effect of Augmented Reality and Virtual Reality in Crime Scene Investigations
Hammady, RAMY. and Ma, M., Designing Spatial UI as a Solution of the Narrow FOV of Microsoft HoloLens: Prototype of Virtual Museum Guide
Hammady, RAMY., Ma, M. and Powell, A., User Experience of Markerless Augmented Reality Applications in Cultural Heritage Museums: 'MuseumEye' as a Case Study
Hammady, R. and Ma, M., Interactive Mixed Reality Technology for Boosting the Level of Museum Engagement
Rahma, T., Taha, E., Zaki, T. and Hammady, R., (2023). Mobile Augmented Reality for Learning Phonetics
Grants and funding
2023
EPC Improvements KTP Application (June 2022 submisison)
EPC Improvements Ltd
Customised metaverse as virtual space for young autistic adults
University of Essex (QR Impact Fund)
EPC Improvements KTP Application (June 2022 submisison)
EPC Improvements Ltd
2022
EPC Improvements KTP Application (June 2022 submisison)
Innovate UK (formerly Technology Strategy Board)
Contact
Location:
4B.526, Colchester Campus
Academic support hours:
Tuesday from 12-2 pm