If you are pregnant you will need to review your DSE assessment to incorporate the need for more posture related issues. Find out more about risk assessment for pregnancy.
Adjusting your workstation
Over time, as your tummy expands, your sitting position should be monitored to ensure you are maintaining a good sitting posture. You may also need to take more breaks to cope with increased fatigue.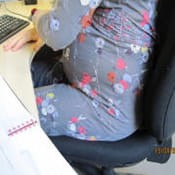 The body shape changes as time progresses, the centre of gravity shifts putting extra strain on back, extra pressure on thighs, legs and tummy under bump.
Backache is common as your baby grows and tummy enlarges forcing you to sit further back from the desk causing problems with reaching and stretching.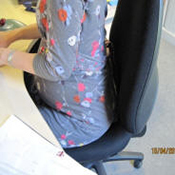 Leaning forward puts additional strain on your back and pressure on your thighs and tummy under the bump.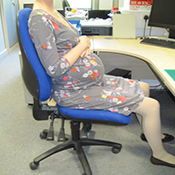 You should re-adjust the chair as your size increases. The seat slide should be in the forward position to support the back of your legs and tilted forwards about five degrees to relieve pressure on your thighs.
The chair back should be tilted slightly back to relieve pressure under your bump. This could place more pressure on the buttocks which should be relieved by regular breaks for exercise. Make sure you maintain good back support.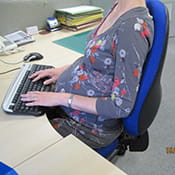 If available, move to the curve part of the desk which will allow you to get closer to the desk.
This position maintains correct arm and wrist positioning without the need to stretch or lean forward.