Strategic objectives
The strategic objectives of Horizon Europe are to drive economic growth and create more and better jobs. Horizon Europe plans on building on H2020 by tapping the innovation potential of EU member states and associated countries with more specific targeted actions funding projects for both public and private sector organizations.
Horizon Europe will have specific key focus areas for research and innovation support. Additionally Horizon Europe will focus on having a more targeted practical impact via European partnerships, missions and mutually beneficial areas of international cooperation for the benefit of society.
Preliminary structure of Horizon Europe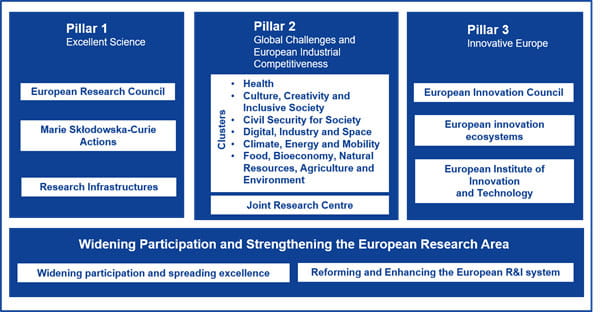 Missions in Horizon Europe
Horizon Europe will incorporate research and innovation missions to increase the effectiveness of funding by pursuing clearly defined targets. The Commission has engaged policy experts to develop studies, case studies and reports on how a mission-oriented policy approach will work.
5 mission areas have been identified, each with a dedicated mission board and assembly. The board and assembly help specify, design and implement the specific missions which will launch under Horizon Europe in 2021.
Adaptation to climate change including societal transformation
Cancer
Climate-neutral and smart cities
Healthy oceans, seas, coastal and inland waters
Soil health and food
European partnerships in Horizon Europe
Horizon Europe will support European partnerships with EU countries, the private sector, foundations and other stakeholders. The aim is to deliver on global challenges and industrial modernisation through concerted research and innovation efforts.

Full information on European Partnerships including candidates and contact details