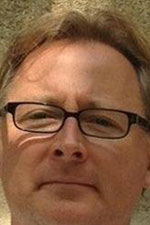 Dr Richard Cornes is a Senior Lecturer in Public Law in the Essex Law School. Within the University he is the coordinator of the Essex Law School's Public Law Research Group and an advocate for LGBT+ rights as a member of the University's LGBT+ Alliance. He is also a Visiting Fellow at the University of Otago, New Zealand's, Centre for Legal Issues, and an Associate Member of Landmark Chambers, London.
Richard came out at the age of 16, giving a gay rights speech during a school speech competition. At the time – 1985 – New Zealand was debating decriminalising homosexual sex. The following year he was elected chair of the student council and appointed deputy head-boy along with the captain of the First XV.
A confirmed Anglican, he credits his Christian faith, along with the support of his family and high school teachers, with giving him the strength to come out when he did. "It was a difficult time for us all with gay law reform going through parliament. A lot of hateful things were said by people of faith. I was blessed to belong to a supportive parish and church youth group." He even contemplated entering the priesthood, before turning to his other loves, English, and Law, at Auckland University.
He has lived in the UK for 15 years now and believes it is important for those who feel comfortable with their sexuality to be open with their colleagues, and especially students. "I understand some people don't want to come out and just want to get on with their jobs, but just as it's important to have a mix of men and women, and people from different ethnic backgrounds, it is also important for people to see authority figures and colleagues with different sexualities too."
He comments that, as liberal as things seem now, people, young, and older still struggle with being open about their sexualities and living their lives to their full potential. Further, "while we have marriage equality in almost all of the UK there's still plenty of homophobia about. Teenagers are still thrown out of home for being other than straight, there's still violence against people on sexuality grounds, people still get bullied. And then outside of the UK there are countries' where being gay is still a crime, even punishable by death."
As part of the Essex LGBT Alliance, Richard believes that it is tremendously empowering to see organisations, and their leadership, being serious about inclusivity. "Essex's stance on these issues is one of the reasons it's a great place to work or study, whatever your identity."