Accessible PDFs
Once the Word document is fully accessible and you've checked any warnings in that panel, you can easily create an accessible PDF from this by the following steps.
1. Go to File > Save As (it's important you click Save As, rather than Save as Adobe PDF).
2. Choose PDF from the dropdown of document types.
3. Select the 'More options..' link, it will look something like this:

4. In the 'Optimize for..' section, choose Minimum size (publishing online).
5. In the 'Title' section Give the document a formal title.
6. Click the Options button, and make sure all of the non-printing information options are checked. These should be:
'Create bookmarks using Headings'
'Document properties'
'Document structure tags for accessibility'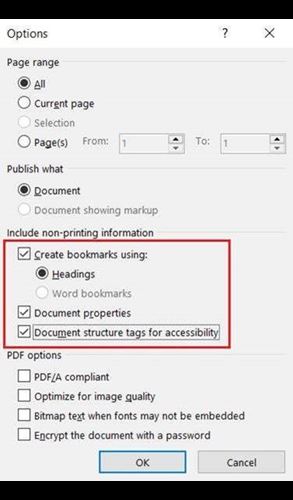 7. Once all of those steps are taken, now you can click Save, and Word will create an accessible PDF ready for upload to the website.
Find out more